Villa probably haven't strengthened enough considering who they let go, but people have to be realistic: there's no point in expecting them to be challenging for the Champions League.
I just look at them and think Villa are a mid-table side now and will have to settle for that. They might be a big club in terms of stadium and support, but the current team they've got just isn't good enough to think they'll be anything else.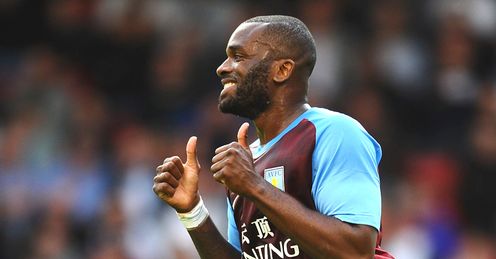 They can't expect anything more because they just haven't gone out and spent big money. I know they have got some young players like Barry Bannan and Marc Albrighton, but I wouldn't say there's anything really special coming through; they are ok, but not great. None of them are exceptional.
Sky Bet odds: Villa (+29) to win on the handicap - 15/1
Like so many managers, Alex McLeish needs a great start - and that's just to break even with the Villa faithful.
Jamie Redknapp
Quotes of the week
SKY BET ODDS
Sky Sports football pundit Jamie Redknapp has signed a two-year contract extension with online betting firm Sky Bet. Each week Jamie will provide his '
Red Hot Tips
' and you can also watch his weekly video previews.
They will have to rely on the senior experienced players again, like Stylian Petrov, Richard Dunne and, of course, Darren Bent. He will score goals, but you do wonder about the service he'll get without Ashley Young and Stewart Downing.
Sky Bet odds: Bent to be the top goalscorer - 10/1
That said, Charles N'Zogbia is a good replacement - for one of them - and will probably get more goals.
I just think this season is all about settling down again before they can really think about kicking on and getting back to where Villa fans think they should be, which is challenging for that top six spot.
The gaffer: It was a disaster under Gerard Houllier last year as I thought it might be. He seemed intent on falling out with his senior players and you can't do that. Alex McLeish might not be the fans' favourite, but he seems to have got the likes of Richard Dunne and James Collins back on-side, will help. I like the signing of Charles N'Zogbia and they obviously needed a keeper and in Shay Given, they have got one of the very best. But it's hard to think of a Premier League manager who is under so much scrutiny, from his own fans, before a ball has been kicked. Like so many, he needs a great start - and that's just to break even with the Villa faithful.
Will flourish because: Darren Bent will get goals, absolutely no doubt. Whatever league or whatever team he plays in, he will score. I'd back him to get 15 this season, no matter how well Villa do. He is their main threat and their main man. I guess, having bought him in January, they club will consider him part of this season's plan along with N'Zogbia.
Will fail if: A real lack of top quality is exposed - and that is my worry. If the players aren't there, the manager - whatever you think of him - can't just wave a wand. I like Alex McLeish and what he does as a manager, but if he hasn't got the talent there, I can't see how he can improve on last year. It doesn't matter how big a club you are, if you haven't brought in as good as you've let go, you'll struggle.
The finish: They should be looking at top 10 and I think it would be a brilliant season if they went better than last year and came eighth. But a lot depends on what sort of start they get off to - not just for McLeish either.
First time on Sky: Wolves (h), Aug 27th
The flutter: Villa to finish in the top 10 - 8/11, Bent to outscore Suarez - 5/6
Comments (1)
Mick Mick (Aston Villa fan) says...
A lot has been made of the players Villa have let go,with the exception of Friedel and Reo Coker,the rest could'nt get a game.Villa sold Young who many that watch him regular know his crossing and distribution is not as good as people think and Downing had a half decent season in a poor performing side.In thier place Villa now have Given,rated by many pundits to be one of the best keepers ever in the premier league history.N Zogbia who is far more skillful and scores more goals than Young or Downing,plus if Mcleish can get them playing anywhere near thier best there is Ireland,Warnock &Agbonlahor who were disgarded or played out of position last season.Perhaps Villa are not as bad on the pitch as people like to think,its just off it they are trying to clean up the mess left by Martin O Neill.
Posted 13:30 12th August 2011