They pushed Manchester United all the way last season and that was without Frank Lampard - and his goals - for a long time, and without Didier Drogba at his best.
So you don't need to be a genius to work out that is exactly what they'll do again.
Of course, all eyes will be on Fernando Torres again and I can't see how he can't come good. We know Chelsea are desperate to get Luka Modric and he is just the sort of player they need, because they still lack a little bit of guile.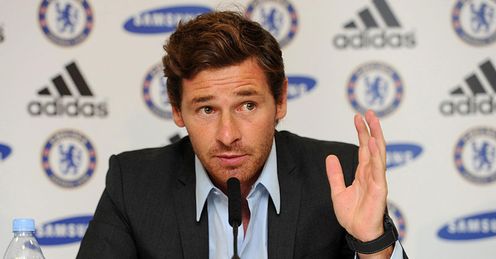 He would bring the best out of Torres, just like Steven Gerrard did at Liverpool, but the likes of Lampard, Drogba and Florent Malouda want to get goals for themselves.
I genuinely don't know what is going on with Luka Modric, but my honest opinion is they will get him in the end. That aside, there's no real weaknesses in their squad.
Sky Bet odds: Chelsea to win the title - 11/4
Villas-Boas has a phenomenal record at Porto so knows how to win trophies - it's just whether he can handle the pressure of managing a massive club like Chelsea.
Jamie Redknapp
Quotes of the week
SKY BET ODDS
Sky Sports football pundit Jamie Redknapp has signed a two-year contract extension with online betting firm Sky Bet. Each week Jamie will provide his '
Red Hot Tips
' and you can also watch his weekly video previews.
The big issue is how Andre Villas-Boas settles in. We are no under illusions what is expected of him, so I am sure he isn't either.
People will be looking for him to be another Jose Mourinho but that's not fair. No-one is like Mourinho. He has a phenomenal record at Porto so knows how to win trophies - it's just whether he can handle the pressure of managing a massive club like Chelsea.
But he has the same set of players, with a few younger ones coming through to give them some freshness, and that in itself should be enough to see them challenge United again. They cannot afford another poor run like they had around Christmas last year, because that probably cost them the title.
Sky Bet odds: Torres to score more than Carroll - 4/6
The gaffer: I've met Andre Villas-Boas a couple of times and he seems like a really nice bloke. But he has a problem because when he was originally at Chelsea, he was the guy who did all the stats and that sort of stuff, but now he has to go in there and win the trust of those big, big players. He should get respect for his record at Porto, but is that enough to walk into that dressing room that's full of egos? That's his biggest task. People say that isn't a problem because he will be like Jose Mourinho because he spent a lot of time with him, but I've been round my dad my whole life, but I'm pretty sure I wouldn't be the same sort of manager as him! I've always said this about being Chelsea manager: it's a brilliant job, but it's a very, very difficult one. You have to deal with the senior players talking straight to the owner, which you never hear of at Manchester United or Liverpool, and if he upsets a couple, we'll see how strong he is.
Will flourish because: They've got winners in that dressing room - and plenty of them. They can still call on two world-class players for pretty much every position and there are not many that can say that, even among the top, top sides. The likes of John Terry, Ashley Cole, Drogba and Lampard will want to get their hands back on that Premier League trophy.
Will fail if: They don't get an extra midfielder or two in. Losing Michael Essien again is a massive, massive blow and has left them short in that department. I actually think Man United are too, but Modric, and maybe even one other, is a must. They need guile because if they can get Torres going, in tandem with Didier Drogba, then they might go one better. Modric would be perfect.
The finish: I can't see them winning the league this year, I really can't. But Villas-Boas could well come in and be absolutely unbelievable and revolutionise football, we don't know, but it's the same set of players and the same problems. They will, along with Man City, be the biggest threats to United, though.
First time on Sky: Stoke (a), Aug 14th
The flutter: Chelsea to win a trophy - 8/11, Torres to be Chelsea's top scorer - 11/8
Comments (4)
Isah Oma (Chelsea fan) says...
Fascinating analysis, I agree with your view on all but the finishing. Andre Villas Boas will prove all the pundits wrong by winning the premiership. Just as you said , he has all the players in every dept of the game, with his knowledge and intelligence, if he spare no big name on the field, i see him KISSING the trophy in the next summer.
Posted 15:03 12th August 2011
Robert Hopgood (Chelsea fan) says...
I wouldn't write off Chelsea yet. With Man Utd & City being tipped for the title ahead of Chelsea, it might just suit them, having less expectation. Chelsea's core players might be over 30, but these days if a player keeps fit & trains properly it doesn't matter too much. One thing you can't buy is the experience of winning titles & Chelsea have that. Plus a little attitude of 'everyone writes us off' will surely provoke this very proud group of players. Finally, the manager. Young & untried in the Premiership?, yes on both counts but remember he has already bettered Mouriniho's record at Porto, so let us wait & see what he does now.
Posted 13:49 12th August 2011
Redwan Edem (Chelsea fan) says...
Villas-Boas good manager whether he can handle the pressure of managing a massive club like Chelsea.
Posted 10:51 12th August 2011
Terence Ogidan (Bolton Wanderers fan) says...
i think we will sign luka modric because tottenham have the strenght and he belief to keep him he wants to champions league
Posted 17:44 11th August 2011