Manchester United really intrigue me at the moment.
I can't help but think everyone's getting a bit carried away, going mad over the youngsters.
Yes, they looked good against Spurs but the game was pretty close for 70 minutes and to me that wasn't a real test. Spurs had a lot of players missing - certainly in midfield - and there's no doubt there are plenty of much tougher tests ahead.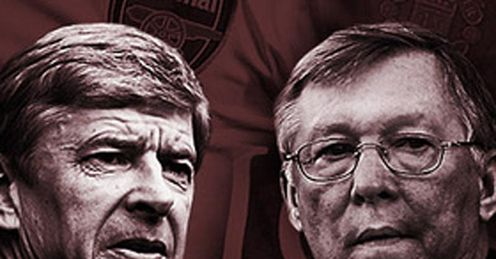 I do think the 3-0 result flattered them a little bit and the more I look at it, the more I think that is nowhere near Sir Alex Ferguson's strongest team. It will still be Wayne Rooney and Javier Hernandez up front, Nemanja Vidic and - fitness permitting - Rio Ferdinand at the back and even though everyone has been waxing lyrical about Anderson and Tom Cleverly in midfield, I still think that's one area where United are short.
Last season we seemed to be bemoaning the lack of top-quality strikers and now this year, it seems to be genuine midfield talents that are lacking. Look around and it's hard to see any who Sir Alex Ferguson can get - and Arsene Wenger will be thinking the same.
Jamie Redknapp
Quotes of the week
LIVE ON SKY SPORTS
Manchester Utd v Arsenal
3.30pm, Sun, Sky Sports HD1
And available on Sky 3D
Watch on the move with
Sky Go
How to
remote record
SKY BET ODDS
Each week Sky Sports football pundit Jamie Redknapp will provide his '
Red Hot Tips
' and you can also watch his weekly video previews.
Jamie's backing Unitwed to beat Arsenal 3-1 - 11/1 with Sky Bet
I've said before, Sir Alex Ferguson will remember the runaround they were given by Barcelona in the Champions League and if he goes into games against the better European sides with those two, it will happen again. That is why he was in the market for Samir Nasri, that is why he looked at Wesley Sneijder and Luka Modric. I just think they are short in midfield.
They probably were last season but got away with it in the league, but not Europe - and there's no way you can tell me the midfield they have been playing this season is better than that.
They need a real talent in there. Manchester City have got David Silva and now Nasri, Chelsea have bought in Juan Mata and right now, I think those two are stronger in that area than United. The trouble is there isn't that much talent around.
Last season we seemed to be bemoaning the lack of top-quality strikers and now this year, it seems to be genuine midfield talents that are lacking. Look around and it's hard to see any who Ferguson can get - and Arsene Wenger will be thinking the same.
Don't get me wrong, Anderson has it in him to be a great midfielder, but to me he could look sharper and fitter. He had that horrible cruciate injury and a few off-the-field problems which put him back, but it looks to me as if he needs to work on his attitude.
Exposed
The one huge thing United have in their favour is the way Wayne Rooney has started the season. Remember last season? It took him ages to get off the mark; this season he has already got a couple, he looks sharp, his touch is spot-on and he looks like he's loving his football.
Defensively as well United have no problems. They have been forced to play the youngsters but Chris Smalling and Phil Jones don't worry me the same way as the midfield, or the keeper for that matter. Jones, I think, will go on to be a future captain of club and country because he looks so calm all the time, does the right thing and looks like a man in a boy's body.
You have to give Sir Alex credit, because he did his shopping early. He knew that Vidic and Ferdinand would not be around forever, so made sure Smalling was signed up last year and then went and got Jones. If you compare that to Arsenal and what Arsene Wenger has left himself with, it shows you just how smart Fergie has been.
Jamie thinks Liverpool will beat Bolton 2-0 - 11/2 with Sky Bet
Selling Nasri might bring an end to one problem and getting into the Champions League might end another, but they have a whole lot more coming their way. Yes, they stood up well to a tough test at Udinese but if that same side is asked to go deep into the knockout stages and take on the best teams, they haven't got a chance. They will get exposed.
I'm not just talking about losing Nasri and Cesc Fabgregas either. That just papers over the cracks at the back where they have needed strenghtening for some time now. Johan Djourou can't seem to stay fit, they played almost all last season without Tomas Vermaelen and now Lorent Koscielny looks like he's got a back problem, which is never good. But the truth is, this hasn't crept up on Arsene Wenger; we have been saying this for a couple of years now.
While Sir Alex saw the problem and went out and bought young and bought early, he didn't - and I don't know why. Maybe sometimes managers are too close to the problem and can't see the wood for the trees.
He also needs to find a midfielder you would assume, because he's lost two, but he now faces the same problem as Sir Alex - there just aren't too many around. We have less than a week before the transfer window closes and it really wouldn't surprise me if he ends up buying no-one. I'd like to think he has a masterplan, but I would still love to know what it is!
Amazed
I do think that win over Udinese will give the dressing room a lift going to Old Trafford and I don't think they are lambs to the slaughter by any means. But I'd be amazed if United didn't win, absolutely amazed.
It seems a strange thing to say given what we are used to in the Premier League, but for the first time I don't think it's fair to compare Arsenal and United; they are just so far apart. Usually this is the two heavyweights going head-to-head; this season Arsenal's biggest battle, I think, will be with Liverpool and Spurs for fourth place.
That might well take some of the pressure off and people might even give Wenger a break, sit back and let him have the January window to spend that money and then see how he does. And it wouldn't surprise me if they went and won something like the Carling Cup either, this year. But whatever happens on Sunday, there's no doubt you would rather be in Ferguson's shoes than Wenger's.
Jamie's backing Swansea to beat Sunderland - 11/8 with Sky Bet
United's bench on Monday had Ryan Giggs, Michael Carrick, Ji-Sung Park and Dimitar Berbatov on it; Asrenal have had to play teenagers in their first team. United have defensive strength-in-depth, Arsenal have had a problem at centre-back for some time now.
The only area where Arsenal are better off, is in goal. I've watched David de Gea closely and from what I've seen, if I was a United defender he would scare the life out of me. I think his handling's poor and it doesn't matter how you dress it up, he was suspect against Spurs again. He just looks like a bag of nervers which, for a keeper at a top club, is the last thing you want to see.
Wojciech Szczesny on the other hand, looks like he's going be one less headache for Arsenal. That penalty save on Wednesday night might have earned his club £25million and he has looked commanding and confident, even if his defence hasn't. Arsene Wenger may have 99 problems, but a keeper ain't one...
Comments (22)
Matt Murphy (Manchester Utd) (Manchester United fan) says...
i have to agree yith jaimie regarding utd and the lack of fire power in midfield. In the premiership we managed ok but got found out bigtime in the cl final,we were outplayed and outclassed in midfield and this season we have lost scholsey!!! Who have we brought in?young!! A Decent player in the premier league but cl?i dnt think so. As for centre midfield well we have a decent young lad who maybe in 3-4 years might cut the mustard but until then we are gonna struggle against the better teams,maybe fergie is happy with the premiership title again but with city and chelsea strengthening with class players who know what it takes to play and win in the champions league i have a aweful feeling utds lack of class in centre midfield is gonna come back and bite fergie on his backside!!!! mark my words murf one true red
Posted 10:50 26th August 2011
Muchie Mhonde (Manchester United fan) says...
your article is gud until u started talking abt De Gea....l strongly feel he has improved ever since tht charity sheild game..if u go bek to the spurs game hw many long range shot were targeted at DeGea?And he was up to task...Jus look at the way he handled those shots....at least u should have included his ball destribution abilties..hw he influenced the other goal.
Posted 10:40 26th August 2011
Daniel Jakes (Arsenal) (Arsenal fan) says...
A well balanced Article Jamie, Its all been a little overboard about the United Team, if they would have got Schneider it would be justified but they missed the boat on that position as I dont believe Anderson or Cleverley will be able to stay in form all Season. Arsenal, and indeed Wenger on the other hand fully deserve the criticism. I cannot believe Wenger thinks we'll be able to compete at the same level as last year, never mind challenging for the title when we have lost 2 of our most influential players and not replacing them. its Criminal. I agree Wenger probably wont even buy anyone, combined with injuries/suspensions we could see ourselves playing catchup with L'pool and Spurs by December. Im just over the moon we got Champs League football for another year....
Posted 09:59 26th August 2011
Odhiambo Issa (Manchester United fan) says...
I concur with you Miller. De Gea is receiving too much criticism for nothing. I guess they are just happy to see any weakness in Manchester United squad. As for you Jammie, the Anderson, Cleverly combination in midfield for man united is better since it is more positive and mobile. Unlike carrick who is slow, and giggs who can't run a mile anymore.
Posted 09:48 26th August 2011
Hesh Fekry (Arsenal fan) says...
C miller your comments are typically united. Im an arsenal fan so trust me I could spot problems at the back. De Gea has an air of "almunia" about him. I hope he proves me wrong, but getting better doesnt calm nerves, ive seen almunia make consecutive spectacular saves against barcelona, and then lose us the game. I think at that level, in goal, you should be calm. Even if you are at the bottom of your learning curve, it is an essential attribute.
Posted 08:44 26th August 2011
James Odera (Manchester United fan) says...
I agree with Jamie on the aspect of United needing a quality playmaker. However, I beg to differ with his sentiments about De Gea. His performance against Spurs was out of the top drawer, a remarkable improvement from the earlier jittery performances against City and West Brom - his main problem has obviously been nerves which he is already getting over and still at only 20, this youngster can only get better. On the other hand, should Fergie fail to capture Sneijder, I am confident United can still go toe to toe with Europe's elite. Come on you Fergie babes!
Posted 07:42 26th August 2011
Nigel Bramley (Chelsea fan) says...
Couldnt agree with you more re going overboard on Man U players. They were average against an average Spurs side. If Man City can gel then i see them winning the title. One other thing, on the CL draw a couple of pundits said Man U will win it. Its only an opinion i know, but, they havent closed any gap on Barcelona...no team has. ( just for the record im no City fan).
Posted 07:19 26th August 2011
Michael Iveston (Manchester United fan) says...
Got to agree with C Miller on this one. Theres no doubt in my mind that this season will be a real learning curve for De Gea and he will only get better. Lets not forget he's replacing one of the greatest Keepers ever to play the game in VDS and not only is VDS over twice his age but was vastly more experienced. From what I saw last year in Spain De Gea is a very good keeper and theres no reason why he can't be a success. Obviously everyone makes errors and as the saying goes, theres no place to hide when your in goal. But lets not forget how tough it will be to adapt to the PL for him. Theres more crosses in the PL than in any other league in the world and no matter how talented you are that will take some getting used to, as well as the physicality of the English Game. Theres no doubt in my mind he's going to be a quality Keeper for us he just needs confidence and that will come with games, have faith!
Posted 03:48 26th August 2011
Tony Adams (Arsenal fan) says...
Arsenal Fc WILL surprise everyone this year!! wait and see!!! i know something u lot dont!!
Posted 02:39 26th August 2011
Bryan Lee (Manchester United fan) says...
@C Miller: De Gea's still a lil rusty if you ask me. And about Hart conceding 3 goals against United, well, I'd rather have Hart to be in goal at the moment. The difference between Hart and DG is that, Hart was beaten by sheer quality, while DG was beaten by himself.
Posted 02:30 26th August 2011
M Ch (Liverpool fan) says...
hi. just wanted to let u know that i think u have greatly misjudged the quality and class of liverpool. they are way way better than last season. and this season they are certainly much stronger than arsenal or spurs. i think it will be no surprise if they were to win the league.
Posted 01:25 26th August 2011
Scott Stone (Manchester United fan) says...
It's true that United are not the rock solid team they were in the past. But when you look at the players we have lost over the last few years: Ronaldo, Tevez, Van der Sar, it is amazing we haven't had the dip or drop in talent that you see in the other clubs. I think this is a true testiment to the idea that United keep their players and their manager for the long haul. Yes, some players will come and go, but a core stability and the promotion of youth academy players have kept a cult of succes in place. De Gea and the young midfield will see their challenges, particularly in Europe but that is why we have men like Giggs, Carrick and Park. Those boys have been on the biggest stages and know what to do and how to win. United winning the league is clearly not a sure thing this year, but it is their for the taking.
Posted 23:10 25th August 2011
Ron Matthews (Manchester United fan) says...
I have to say I agree about the midfield position. I think United will rue the day they didn't sign Schneider. Anderson & Cleverly will be great in the future, but we need experience in this area now. United may win the PL but Barcelona and Real Madrid still have the beating of them. The other signings are excellent, including the goalkeeper, United just need to add a quality midfielder.
Posted 22:18 25th August 2011
J Doyle (Manchester United fan) says...
I agree i think Utd are far too lacking in midfield. They have been lacking a proven midfielder for years. I think they are still having nightmares about the money spent on Veron and afraid of lightening might strike twice. A lot of people seem to be have blinkers on or are too afraid to admit it and seem to me to be too caught up on the Tom Cleverly express. There is no doubt the boy has talent and will be a star of the future but a Nasri, Modric or Sneijder he ain't yet. I just think he could of learn't so much playing along side one of these. Fergie says Barcelona are the benchmark at the moment, they go out and buy someone like Fabregas and what do utd do promote Cleverly and Pogba I don't think Guardiola or Messi will be losing sleep just yet. I still have a faint hope that Fergie is being coy and might make a late bid for Sneijder but I doubt it.
Posted 22:07 25th August 2011
Notse Mantse (Manchester United fan) says...
I think the analysis was fair except for few areas. I think Man U would fair better in midfield if our offensive players are all on song. We can boast of the most potent striking force in the premiership - in terms of sheer pace and experience. Nani, Young, Rooney, Henandez, Welbeck and Valencia. Experience in Rooney, Berbatov, Nani, Giggs, Park, Valencia etc. I thought Jamie comparing Man U to Barcelona and if that is the case then he is making a grave mistake. Every team has their signature game style and no one can play like Barcelona - not even the Brazil national side, because it is just not in their style and tempo of play - and Barcelona aside Man U is capable of beating any other team hands down - no disrespect to the other teams - and I excluded Barca because of the recent Champions League triumph against Man U. Man U is first and foremost a premiership side and it it important that we set up stall to win it. The Champions league is just a bonus and must not pre-empt the importance on the domestic competitions. . .and given what the lads have shown so far, it is permissible to make Man U favourites to retain their crown. I know Chelsea and specifically Man City are still trying to but their way to the title, but with Man City does not have the team experience to comfortably cope with both domestic and the champions league soccer. Chelsea has lots of experience but at the same time it will not be appropriate to burden the new coach with very high expectations in his first year - that does not mean that Chelsea cannot win it. With Arsenal, I can only say that in Wenger we trust. I think either he knows something we dont or he has something up his sleeve and it is important that he get absolute support and loyalty from the Arsenal fans.
Posted 21:50 25th August 2011
Jonny King (Manchester United fan) says...
"you can't win anything with kids" heard it all before
Posted 21:40 25th August 2011
Chibuzor Arihilam (Arsenal fan) says...
Hi jamie, always like to read your opinion, very refreshing as always. AW has too many injuries and suspensions for now and a draw will be a great result. I do though, has a hunch and sneeky feeling this might end up to be his best season in English football. He is being around for long, and might want to leave after something special. I wish the something special part of my hunch or whatever comes through but he stay because he is as good as they come and good for the game.
Posted 21:29 25th August 2011
Robert Long (Manchester United fan) says...
I usually agree with you Jamie but i think your wrong. I think De Gea will take time to settle in but its an investment and a good one. In terms of the midfield i think carrick, giggs, fletcher, cleverly, anderson can hack it and other player scan float in there if need be. Its just good clev and anderson are given the games. I actually thought Anderson looked incredibly fit v Tottenham so im confident he will have a great season. the other clubs will be more worried about fitting and blending there players to there respective squads united are already there.
Posted 21:22 25th August 2011
Danny Anaba (Manchester United fan) says...
people always talk about man u not having a good midfield since Carrick came in but but they still win trophies at the end of every season. Anderson is one of the best out there and he will only get better from the way he is playing. man u will definately win the league with Anderson and Cleverley running the midfield
Posted 21:08 25th August 2011
Sam Fanara (Manchester United fan) says...
C Miller is spot on. People need to give De Gea time. I think Mr. Redknapp is correct in almost everything else except, as much as I'd love to see it, I don't think Ferguson will sign a new midfielder as I don't think we'd need one. Signing Sneijder or Modric would be a stupid move as with Cleverley and Anderson coming through; and Fletcher, Carrick and Giggs sharing a wealth of experience already, it's only going to harm the younger guys' progress and development for United. If it dosen't work out, we've always got January.
Posted 20:33 25th August 2011