I don't know who writes - or Tweets - Joey Barton's scripts, but he will again be the centre of attention on Monday night.
Neil Warnock was one of the busier Premier League managers in the transfer window but all eyes will be on one man when Newcastle travel to Loftus Road.
Barton is a controversial character of course, but as a footballer, there's not much you need to say about him. Providing he concentrates on his game and keeps his head down he is a very good footballer and theoretically is a great signing for QPR.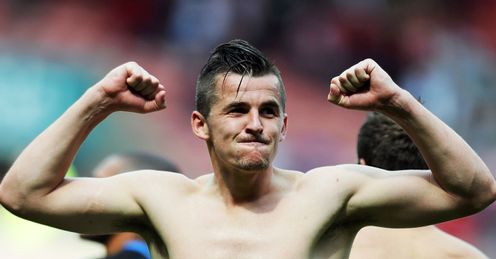 People will wonder how he and Adel Taraabt will work out in central midfield, but I don't see the problem. Taraabt will drive you mad but does have genius in his boots but the one thing he's not is a workaholic and I am sure Joey Barton is smart enough to realise that.
He will know he might have to do the lad's running for him now and then but whatever you say about Barton, he does not shirk anything on the pitch.
QPR are a team that needs hungry players if they are going to stay in the Premier League. That has to be the priority because for all the money they've got, players are not going to go to Loftus Road because let's be honest, relegation, or a real dogfight down the bottom, is not going to tempt too many.
Jamie Redknapp
Quotes of the week
SKY BET ODDS
Sky Sports football pundit Jamie Redknapp has signed a two-year contract extension with online betting firm Sky Bet. Each week Jamie will provide his '
Red Hot Tips
' and you can also watch his weekly video previews.
The only problem is - as much as Joey might not believe it - he does get himself into situations he should'nt. But there is no doubting his footballing ability and if you believe everything you've read, there were plenty of clubs, some in the top four, willing to take him away from Newcastle. I know QPR were chucking loads around as well and financially, he will be very well looked after.
I actually think going to QPR to work with Neil Warnock will be good for him. Neil is a very intelligent man and he will only be looking at players he thinks will keep his team in the Premier League. In that respect, Joey will be loved and it is not going to be in the manager's interests to fall out with him, because he needs him.
It's not like the old days either when if you fell out with the boss, you would be stuck in the reserves for a couple of months to teach you a lesson. You need a big squad to compete in today's football and with the power - and money - players have nowadays, everyone has a part to play.
And although Neil will ruffle a few feathers this season, he knows just what Barton can bring to QPR.
He might just be one of those rough diamonds that he seems to like as well. Neil will think he has a point to prove to everyone in the Premier League and in bringing in players like Shaun Wright-Phillips, Anton Ferdinand and Barton, he has got players who might feel the same. If they all gel in that dressing room, it will work really well.
Hungry
I hope it does because I am a fan of Warnock's and it's nice to see him with some money to spend. There was a time when my dad was known more for working on a shoestring budget, having to take risks with players and almost bringing in waifs and strays to his club and I think Neil has been given that label as well. But he is very shrewd, he is a football man through and through and I am sure he is relishing the chance to go and sign pretty much who he wants.
Keiron Dyer, Ferdinand, Wright-Phillips and to a certain extent, Luke Young, are all players that will want to get their careers back up and running. And QPR are a team that needs hungry players if they are going to stay in the Premier League.
That has to be the priority because for all the money they've got, players are not going to go to Loftus Road because let's be honest, relegation, or a real dogfight down the bottom, is not going to tempt too many.
I know Scotty Parker could've gone there, but having been through it all with West Ham, he just didn't fancy another season like that and you can't blame him. It's at the other end of the scale, but just as Manchester City needed to get into the Champions League to attract people like Sergio Aguero, QPR need to stay up so they can start bringing in better players.
Wright-Phillips is certainly far better than a Manchester City reserve player and maybe coming back to London will bring the best out him and Ferdinand again. I am sure QPR would've wanted another striker in the window but at least with Shaun and Barton in midfield, Jay Bothroyd and DJ Campbell are guaranteed one thing - better service.
Rocking
I think QPR are in for an exciting ride this season and I hope they do manage to stay up. It's a lovely club and a lovely stadium to play and watch football in and you know it will be rocking when Newcastle roll up for Monday Night Football.
I went to the opening game of the season against Bolton and you could feel a huge wave of optimism about the place. They were back in the Premier League, with the big boys and the fans were so pleased to be back.
Of course all that disappeared in 90 minutes and as I left I could hear their own fans saying they would go straight back down, probably with the lowest points total we've seen. From being such a good place to be, the doom and gloom was awful.
That is why Neil Warnock needed to go out and get some players in. He was not in a position to worry about reputations or history, all he is interested in is proven Premier League players - like Joey Barton.
If I were his manager I actually wouldn't start him against Newcastle. There will be so much pressure on him, he might have fallen out with a few of his old team-mates and I know what it's like playing against your old club; you have so much nervous energy it can stop you performing as well as you can. Remember when Fernando Torres made his Chelsea debut against Liverpool? It's a similar situation.
But, Barton is a great player to have on the bench - and you wouldn't put it past him to steal the headlines as a sub.
Comments (4)
Ben Lang (Tottenham Hotspur fan) says...
Well done Jamie, another fine piece of observation. My comment is directed to Ben the Huddersfield fan; what a rediculous statement that Tarrabt isnt good enough for the premership. Any clue as to why your wrong can be found in any clips/ stats or match reports of last season. Tarrabt single handidly set the Championship on fire. Spurs should never have sold him.
Posted 00:02 10th September 2011
Luke Blakley (Queens Park Rangers fan) says...
Nice read and some very good points made by you Jamie. Credit to the board, Warnock really deserves to have the chance to spend some cash, because through out his career he's always had to work on a tight budget. He is a top top manager, and what he did with us last season was a miracle. He had a plan on shaping the team around Taarabt and it paid off. The Moroccan is one of these kinds of players that needs an arm round his shoulder when things dont go well. Warnock always said if Taarabt makes mistakes, the rest of the team should just keep quiet and thats what they did. Credit to the players, because once Wanrock gave Taarabt a quiet word, Taarabt went out and did the business for us
Posted 16:29 9th September 2011
Ben Alexis (Huddersfield Town fan) says...
taarabt isnt good enough at this level, he's chmpionship material. he's not quick enough with the ball at his feet, QPR should have taken the money from PSG. and he wont like barton, who is better, taking all the freekicks for example. Ronaldo wanna be.
Posted 13:34 9th September 2011
Dean Morosoli (Queens Park Rangers fan) says...
Some true and realistic comments Jamie , I think with the money that was available Warnock spent it quite wisely in such a short term. Sure , Questions will be asked about the quality of one or two of the new signings !but you know all about the gel factor and a bit of confidence , one or two good results does wonders and Rangers have a potentially good mix ,perone ,young and Traore look ok with Barton ,wright Phillips and the ever ready Derry look alright and up front D J and Boothroyd will score if the service comes . I've supported QPR since the first time I saw them in 1963 and have seen some fine teams and players " of course the 1975 team with the greats and the so called over the top players like Webb and Mclinntoch ! and enjoyed such players as Marsh and Bowles , but I'm not so sure about Taraabt ! great skill yes, great goals yes ; but he has to learn to be more of a team player "it is a team sport after all ", for all his goals and assists last season he could have doubled both with a higher work rate and that bit of thought to release his team mates at the right time , Oh and keep him away from free kicks , far to many wasted . But all done and said a good mix with the chance to comfortably survive " with a bit of luck ,good support and that vital team spirit .Lets see how other teams "Spurs & Arsenal " cope with terrible loses and if the team spirit can help them raise the bar , winning is a habit ..
Posted 06:43 9th September 2011