I would be absolutely amazed if Wayne Rooney does not start at Anfield on Saturday.
I know everyone will be looking at him after that red card for England and we all know he is going to get some awful abuse from the Liverpool fans, but there is no way if you are Manchester United, you leave him out - unless he's injured.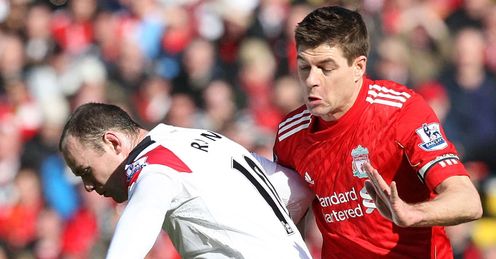 I have to say, I was staggered at his moment of madness in Montenegro. Normally you can see a chain of events that leads up to these incidents, be it a loss of form, or a running battle with a defender, but there was no evidence of that whatsoever.
I have heard people say it was because he was up front on his own, but that is absolute rubbish; he was up front on his own in Bulgaria and scored twice and produced a world-class display.
LIVE ON SKY SPORTS
Liverpool v Manchester Utd

12.00pm, Sat, Sky Sports HD1
Also available in 3D
Watch on the move with
Sky Go
How to
remote record
SKY BET ODDS
Sky Sports football pundit Jamie Redknapp is on a winning run with online betting firm Sky Bet. On Wednesday six of Jamie's 10 Carling Cup selections came in.
See all his picks for this week here
. You can also watch his weekly video previews.
Yes, it was a poor touch that led to the kick out, but the only thing that I can think contributed to it, was those events off the field, involving his family. History suggests that when Wayne has something on his mind, he doesn't perform that well. Remember last season when he was going to leave United? His form was well below par. As soon as he made the decision to stay, he started scoring goals and playing well again.
There was no indication of any loss of form heading to Montenegro; he was playing so well, looking so sharp in his all-round game and had scored 11 goals in his last 10 appearances. It doesn't get any better than that, yet he went and pressed the self-destruction button. It seems to have blown over for the time being and now we know how long the ban is going to be, I can't see there being any fall-out, any hangover from last Friday.
Believe me, he will be back on form for the trip to Anfield. He is back with his mates, he has the best manager in the world at dealing with these situations looking out for him, and if there is one game he wants to show everyone he is okay again in, it's Liverpool.
Wayne Rooney is 9/2 to score the first goal at Anfield
Fiercest
People might be wondering if Sir Alex Ferguson will be tempted to rest him, take him out of the firing line, but why would he? Trust me, Rooney will get the same amount of abuse he would have got before all this came up. Liverpool fans don't like him and he doesn't like them. Simple as that.
It is part of the fiercest rivalry in our game. Believe me, Liverpool against Manchester United will always be that way, whether Wayne Rooney is involved or not. It was like that in my day and still is.
Even when we went away with England, we would try and mix with the Arsenal lads and everyone else, but the United players just kept themselves to themselves. There was nothing nasty between us in that sense, but everyone involved in this fixture knows just how deep it runs.
As captain of Liverpool Football Club, Steven Gerrard knows it, more than most. Which is why he will be relishing this, chomping at the bit to start. And I think he will.
Of course, with an injury as serious as his, there is no way they will take any sort of risk, but there will have been dialogue between him and Kenny Dalglish all week and I am sure Stevie will be telling his manager he is 100 per cent fit.
Steven Gerrard is 7/2 to score in 90 minutes against Manchester United.
Honest
Where does he fit in to the side, though? To be quite honest, wherever he wants.
I am pretty sure Kenny will want to get the best out of his skipper and although it might mean shuffling things about a little, I am sure Gerrard will play where he wants, so to speak. We certainly won't be seeing Kenny do what England managers have done and stick him on the left wing.
Wherever Steven Gerrard plays though, he will make Liverpool a better team. He could play just off Luis Suarez as the forward of a midfield three, or he could come into a normal central midfield role.
Charlie Adam has had a couple of tough games for Scotland this week, so he will need assessing, while Jordan Henderson and Stewart Downing will come back from their England duties on a high. Lucas for me, has to play, because he will be the one to take care of Rooney when he drops deep.
Dirk Kuyt did well against Everton and is the sort of player that will always do a good job. Craig Bellamy hasn't had much of a chance so far, but has done well when he's come on. The fact that Dalglish has so many options shows just what an improvement he has made with those new signings.
Playing Gerrard just behind a striker would work, but you wonder whether he, Suarez and Andy Carroll are the Holy Trinity Dalglish sees taking this side forward. Carroll got that goal in the Merseyside derby the other week and should still be buzzing.
Toughest
I think Dalglish has managed him superbly so far, so he might well stick with him; Suarez has been on international duty in Paraguay, so will need monitoring. But he strikes me as a player who does not want to miss a game, especially the big ones.
It's a tricky decision for Kenny because the one thing Liverpool can't afford to do, even though they are at home, is leave themselves too open. Nani, Ashley Young, Rooney and Anderson are made for counter-attacking football and can hit you hard if you're not careful. Anfield will demand that Liverpool push on, but they cannot afford to leave themselves exposed, because they will get punished.
United need to bounce back as well. I know they beat Norwich but their last away game at Stoke was a disappointing draw and their away form is not the best.
I know they have played Arsenal and Chelsea this season but that was at home; this might well be their biggest test so far - especially with a Champions League away game and then Man City to come.
This fixture is massive anyway, but if either side wins this it will really kick them on for another half-dozen games. Liverpool would get so much belief from this it would be untrue.
They've made a steady enough start but are still waiting for the new signings to bed in, but playing the champions is going to give them a really good idea of how far they've come in the time Dalglish has been in charge.
Liverpool are 20/1 to win the Barclays Premier League.
To see Jamie's prediction and Sky Bet tips, click on the video below...

Comments (16)
Jamie Fletcher (Liverpool fan) says...
Lucas is huge tomorrow he will stop rooney getting on the ball and spraying it like he does so well Rooney's key to united hitting on the break as he hits young and nani so quick. KD will tell lucas to go out and get in rooneys face make it hard for him be hot on his heels all game give him the odd kick and pinch see how he retaliates. Has fergie learnt his lesson from last season and go with legs in the middle its who is going to partner anderson, Fletcher flew last minute for scotland so cant see him playing to many games in one week. Im thinking he will go with carrick over cleverly. If he does that I would go with a midfield 3 of lucas gerrard adam. Forward 3 of carrol suarez bellamy. Use carrol as a target let bellamy and suarez have a free role. bellamy lives for games likes these as he shown for man city at old trafford. Hit de gea every time as bad as it sounds on the lad, united done it to us when we had dudek they used to shoot on sight. I'm going with liverpool 2-1 carroll to keep his run going if that's what you call it and a gerrard 30 yarder just like the one past barthez will do lovely.
Posted 23:38 14th October 2011
David Davies (Manchester United fan) says...
How many years have we heard an ex-liverpool player say they think this is the year. I'm pretty sure I heard him say Liverpool have the game in the bag. Getting a little boring now. United to win 2-0.
Posted 18:30 14th October 2011
Barry Eccles (Manchester United fan) says...
I am a Man Utd fan, and am sure we will win 1.3 tomorrow, however I firmly believe that Rooney should not be playing in this match. His state of mind is questionable and to be honest he will be a liability! He should not be included in England's Euro squad and fully deserves his 3 match ban, and yes I am a Man U fan.
Posted 17:49 14th October 2011
Dony Giblin (Liverpool fan) says...
Liverpool 3-1, Captain fantastic back an suarez buzzin, gonna be too much for the mancs
Posted 17:23 14th October 2011
Jon H (Liverpool fan) says...
Tough call this - if Man Utd have a disappointing defensive display as they have in their previous couple of games then I think Liverpool will win this comfortably. I do have a horrible feeling though that they will be at their best tomorrow. I'd be happy with a draw.
Posted 17:10 14th October 2011
Hammaad Saeed (Liverpool fan) says...
Manchester united always used to win at anfield from 2004-2007 things have changed now liverpool play a more attacking team agasient united were gonna make it 4 in a row and beat united 3-0 Suarez and gerrard too much class for manu rooney always plays poor in this game.
Posted 16:58 14th October 2011
Chris Burrows (Manchester United fan) says...
This fixture is a tough one to call this year. United seem to have slipped a gear or two and Liverpool have been blowing hot and cold since the start, but as we all know Liverpool raise their game when United go to Anfield. If the United that started the season turn up tomorrow then Liverpool can expect to be up against it, but after an international break and a slight doubt in the minds of the United players after the Stoke and Norwich games then who knows which way this will go. As a United fan though I'm gonna put my faith in Rooney trying to prove a point and Hernandez's jubilance after signing a contract and say that this will be a 3-1 win to United.
Posted 13:25 14th October 2011
Stephen Lewis (Manchester United fan) says...
i can see a 2-0 win to man u, not just becouse i,m a man u fan, its becouse we r so superior to the scoucers, watch rooney destroy em...
Posted 07:50 14th October 2011
Clayton Baker (Liverpool fan) says...
It's going to be a great game Liverpool 2: Man U. 1
Posted 21:02 13th October 2011
Steve Exley (Liverpool fan) says...
should b a cracker on sat, liverpool to win 2-0
Posted 20:17 13th October 2011
Arwel Owen (Liverpool fan) says...
liverpool 3 1 united have looked well dodgy at the back suarez will destroy them
Posted 18:32 13th October 2011
Guy Lindley (Manchester United fan) says...
I beleive United will have to many attacking options for Liverpool to handle . United to scrape it 2 - 1
Posted 16:46 13th October 2011
Bob Shanook (Manchester United fan) says...
Hopefully the Internationals won't have taken too much of a toll because with our boys up for it we could definitely break the recent Anfield duck. Last season's fixture was a bit harsh on Utd given that they had a bruising mid week game against Chelsea, during which we were robbed of both the points and our best defender! Had Vidic been involved we wouldn't have been quite so ragged at the back. Also, I hope this year that if a Liverpool deserves to go then the ref will do it. 3 Liverpool players could have gone last year without much argument, Carragher for the second year running! But all in all, what a game! Truly the biggest in the league, and easily my favourite. I hope it's a cracking game with both teams finishing with 11 men and Utd nicking it 2-1!
Posted 15:49 13th October 2011
Stevie H (Liverpool fan) says...
It will be close but Liverpool will edge it 2-1. Come on you Super Reds! YNWA
Posted 13:26 13th October 2011
Samuel Asiedu (Liverpool fan) says...
Liverpool all the way
Posted 11:55 13th October 2011
Paul Cooper says...
i think it will be a good game and be close, a 2-2 draw
Posted 11:38 13th October 2011