This is where Euro 2012 begins for England.
Saturday is a great chance to see the reigning world and European champions in action, but this is not about Spain, it's about England. And it's about Fabio Capello and what he is going to do in Poland and Ukraine next summer.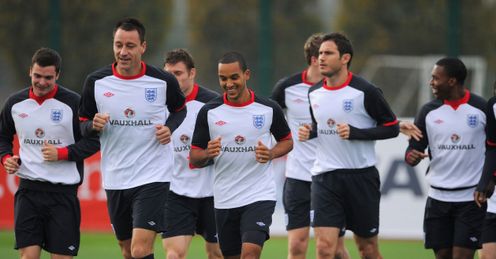 What formation is he going to play? Who is going to replace Wayne Rooney? Who is going to be his right-back? Who are his centre-backs? What is going on with the captaincy?
There are so many issues that need nailing down and that has to start against Spain. I don't want to see us heading into a major tournament the way we did with the World Cup, when Jamie Carragher and Ledley King suddenly appeared in the squad at the last minute and went to South Africa.
Any England side should have eight or nine leaders in there, not one designated guy who is put on a pedestal. We have been doing it the same way for years, yet what have we won? In fact what have we come close to winning? It has become an embarrassment that just puts more pressure on the side and is something we don't need when there is so much to sort out on the field.
Jamie Redknapp
Quotes of the week
To me, England were a shambles in the run-up to that tournament and Capello can't let that happen again. This is his last tournament as England manager, his swansong, so he has to do things properly.
The formation needs sorting out right away. If he thinks it's 4-4-2, or 4-5-1 with two wide men, then play it against Spain and then stick to it. Have courage in your conviction and don't change your thinking.
Personally I think there is only one way to line up in international football and that is with the three in midfield. You might be able to get away with the old-fashioned 4-4-2 in the qualifiers but that is, with all due respect, against poor teams. Against the best, at the major tournaments, you will get found out.
We saw what happened against Germany in the World Cup; we played poorly but were also overrun. And there is no better opposition than Spain to prove that point. They have Xavi and Andres Iniesta with Xabi Alonso as the extra man and it works brilliantly, so why should we be any different?
I have played enough international football to know how important that midfield area is and I know how tough it is when you only have two in there. In my time we played France at Wembley after they had won the World Cup and me and Paul Ince got the right runaround. We did ok for 35 minutes but that extra man made all the difference.
Assuming Jack Wilshere is fit for the Euros, he, Scott Parker and probably Steven Gerrard linking up with the front man has to be the way forward. I hope Capello is thinking the same, because if he goes with two against Spain, Frank Lampard and whoever will have one of the worst nights of their footballing lives, chasing shadows.
Then he needs to tell us who he thinks is going to replace Rooney for those group games. Is it Darren Bent? Will it be Danny Welbeck? Whoever he thinks is the best bet, has to start on Saturday.
That might well be an issue that gets resolved later on because for me Bent needs to be playing as part of pair up top. He likes to play on the shoulder and get in behind defenders and if there is one part of his game that lets him down it is retaining possession - and that is one thing England need to work on.
He has two games now to take a close look at them, providing he can decide on what formation he is going to need them to play in.
I would like to see Kyle Walker get a go at right-back as well. I think he is our best bet looking ahead to next summer, but he needs international games under his belt. Going up against David Villa, who tends to come in from the left, will be a great test of the lad's defensive abilities.
I would also love to know what Capello's thinking is at centre-back. He says John Terry isn't going to play, but right now I would have him and Gary Cahill in there. To be fair, neither is in the best of form, but they looked good enough in qualifying. Further down the line Phil Jones is a shoo-in for one of the roles, but with Spain and Sweden coming up, maybe Phil Jagielka and Joleon Lescott can stake a claim.
Sideshow
Speaking of Terry, one major issue I would love to see get sorted out is the England captaincy, because to my mind, it is another mess we could well do without. Forgive me if I'm wrong, but did Capello say that Terry would not be England captain after the Wayne Bridge saga, give the job to Rio Ferdinand, only to take it off him and give it to Terry again?
Now more than ever, the captaincy has become a sideshow we just don't need. I know it's not all Capello's fault, but I don't think he's helped himself. No-one is more patriotic than me, and no-one was prouder to represent their country than I was, but I can't help but think we are making too much of the captaincy, these days.
I grew up on tales of the great Bobby Moore and Bryan Robson was a hero of mine, but more and more I don't think we need to establish who a captain is the way we insist on doing.
Look at how they do it in Italy. The captain is the player with the most caps, simple as that. If Ashley Cole, or Frank Lampard, or Steven Gerrard is that man, then give him the armband. It's the same with Spain. Are you trying to tell me that Iker Casillas is their best player, the leader of that side? I can't see it, yet he was the man who lifted the World Cup.
We make such a fuss and end up talking about anything other than football when it comes to our captaincy. At Euro 96 Alan Shearer was our captain, but I can tell you right now the leader of that dressing room was Tony Adams.
Embarrassment
Any England side should have eight or nine leaders in there, not one designated guy who is put on a pedestal. We have been doing it the same way for years, yet what have we won? In fact what have we come close to winning?
It has become an embarrassment that just puts more pressure on the side and is something we don't need when there is so much to sort out on the field.
At least playing Spain means we will be looking at just that. It's a great chance to see how we measure up against the very best. Of course, it's hard to see England winning, certainly without a full-strength squad. But for all the issues, we still have some good players - players who would get into the Spain side.
Ashley Cole would, Wayne Rooney would and Joe Hart, in my opinion, definitely would. Maybe the same for an in-form John Terry. Even our talented midfielders wouldn't get a look-in, but I am not sure Spain have the best defenders in the world. But going forward we all know what a joy they are to watch, so patriotism and Euro 2012 hopes aside, it should make for enjoyable viewing.
And it will go two ways for England. I happen to think they will lose, maybe 2-1 or 3-1, but the performance and how we measure up will be just as important. The fact that we are not at full-strength will soften the blow if we are played off the park.
By the same token, if they give Spain a real go, it will not be as bad as we all think. If Rooney, Wilshere, Gerrard and Ashley Young were out there and we got a real spanking, it would be all doom and gloom and we'd realise that we were a million miles away.
The one good thing to come out of that is perhaps we could actually head into a major tournament without everyone in the country expecting us to win it. There are plenty of things for Capello to sort out before we even think about that. And he has to start sorting them out on Saturday.
Click on the video to see Jamie's preview and preditction for Saturday's game.
Comments (7)
Niall Moran (Manchester United fan) says...
Joe Hart would not make the Spain squad, never mind the team!! Casillas, Reina, Valdes, De Gea to name but four ahead of him!! One of the most over-rated players of this generation. Only a matter of time before he pulls a "Rob Green"......
Posted 14:44 11th November 2011
Steven Davids (Aston Villa fan) says...
Yes Ashley Cole, Wayne Rooney and Joe Hart would walk right into the Spanish side. This is the deluded talk we hear over and over again about England. Tell me who exactly would Rooney displace. Villa? No. Silva? No Iniesta? No. Joe Hart wouldn't make the Spanish squad? Valdes , Reina and Casillas are all better than him.
Posted 14:15 11th November 2011
Oliver T (Newcastle United fan) says...
Great Blog Jamie!! I think it all depends what kind of side Spain will put out. If they have the likes of Xavi, Iniesta and Villa, we will be outclassed in the middle of the park and Scotty Parker is going to have a very lond day! As for defence, I just don't know why we keep picking John Terry- completely out of form at this minute. Jamie, what do you think about Stevie Taylor from Newcastle at centre half? Maybe not for the Euros, but he is top class and should definitely be in that England squad.
Posted 13:48 11th November 2011
Daniel Burke (Norwich City fan) says...
Look at Spain's team, the players have the same playing philosophy, and the core of their team play together too. Successful international teams are made out of partnerships, players from the same clubs, if you have two players on a right flank that understand each other's moves inside out, you are better playing them than two so called 'greats' who have no understanding or chemistry at all. Totally agree with Jamie, we have lads that are potential leaders, but the FA are not appointing people to help them grow to become leaders both on and off the pitch. Take Kyle Walker for example, has the game of his life against Arsenal just before our crunch game with montenegro, yet Capello goes with a centre-half at right back to make do. Whilst we appoint coaches with so little attacking ambition, who have no appreciation of the understanding between his players, we cannot hope to have more than one leader because there's only one player who gets passed to all the time - Rooney. And he's being made to look better than he is through being on the ball so often, yet should how mentally weak he is by cracking against mediocre opposition.Putting one man on the ball all the time does nothing for the team's chemistry and no other international team plays like that, we look completely clueless at times and until Capello picks players who can work together and have that chemistry, we will be underperforming, predictable England forevermore.
Posted 13:06 11th November 2011
James G (Newcastle United fan) says...
As Jamie says this is the time to put the best side we possibly can out, my 11 for the first game of the Euro's would be: Hart, Walker, Cahill, Terry Cole, Parker, Wilshere, Walcott (RM), Young(LM), Gerrard (ACM) and Bent. Obviously we can't play that at the moment because of injuries but the back 5 are all fit so lets get them playing together as much as possible and against the best opposition. lets go with two wide men and get at spains poor full-backs, Johnson and Walcott can cause them problems and if you get the ball in the box Bent will score at any level!! lets go out and give the Spanish a game at least if we loose we can say we had a go.
Posted 12:47 11th November 2011
Philip Williams (Liverpool fan) says...
England will spend 90 minutes chasing the ball and then Spain wins.
Posted 12:32 11th November 2011
Phil Rigby (Manchester United fan) says...
Spot on the money there Jamie. We have so many issues to contend with on the field without even thinking about how good Spain are. In my opinion the captaincy should be given to Joe Hart, because he is probably going to be the main stay of the England side for many years to come and will very rarely miss a game, avoiding injuries. I also think Spain will wipe the floor with England on Saturday unless we are dogged, determined and keep possession well. Without Rooney, Gerrard and Young we are going to be under pressure a lot so we need to concentrate a lot on our defending. The current Barcelona side are set up to keep the ball for very long periods and this Spain side will be very similar. They might not have Messi, but they do have Torres playing with David Villa in a system that suits him. My line up would be as follows: GK - Joe Hart RB - Phil Jones CB - John Terry CB - Gary Cahill LB - Ashley Cole CDM - Scott Parker CM - Lampard CM - Tom Cleverley RW - Theo Walcott LW - Danny Welbeck ST - Darren Bent
Posted 12:05 11th November 2011