The US Open is the only major I haven't been to before, so I'm extremely excited to be part of the Sky Sports commentary team at Congressional.
I can't wait to get out there to see how the course is set up. I've watched the US Open on television countless times, but I'm looking forward to seeing at close-hand just how brutal it is. I'll get my first chance to view the course on Wednesday and I'm expecting it to be extremely severe.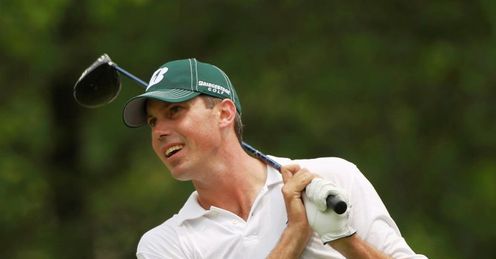 I believe the greens are going to be running at 14 on the stimpmeter, which is unbelievably fast, and the roughs are usually quite thick. The USGA are generally quite happy if the winning score is par, as was the case for Graeme McDowell at Pebble Beach last year. They like it tough.
They say the course is very tight and I've been told that the fairways are so narrow that you might as well just lump it as far down as you can, but I hope the players are given the chance to hit them.
A major victory is long overdue and I have always felt that if Westwood was only ever to win one major championship then it would be the US Open.
Rob Lee
Quotes of the week
There's no point forcing everybody trying to chop out of the rough and I believe the course will favour good drivers. Length will be an advantage, but it won't be everything. The key will be hitting the fairways and the dream combination will be someone who is both long and straight.
I think there's room for this sort of challenge in the sport. I feel Augusta made the back nine too difficult for The Masters - and they've learned their lessons from that - but the US Open has always been a test of endurance and people expect it to be brutally tough. I'm sure it will be that way yet again.
Benefits
It would have been great if Tiger Woods had been playing - any event benefits from having him in the field - but it would be wrong to suggest the US Open will suffer without him.
It was different a few years ago when he was at the peak of his powers, but he's been on the road to recovery for a while now and he simply hasn't been playing as well as he used to.
In the old days you were almost guaranteed a Woods run at the title, but you can't say that any more. He showed us at The Masters that he is still capable of some fantastic golf, but his game simply isn't as consistent as it used to be.
There might be an impact on the viewing figures in the United States, but not a significant one. People talk about the "Tiger effect" (whatever that is), but as soon as the events of the first day start to unravel and you start to see who's shaping up well then the tournament will build its own momentum.
The world's top 10 players are all in action and it will be fun to see who can step up to the plate after McDowell's success last year.
Tyros
The home fans will be hoping that one of America's young tyros will rise to the occasion.
Three names to keep an eye on are Matt Kuchar, who is Mr Consistency on the PGA Tour; Dustin Johnson who can hit the ball for miles; and Nick Watney, who proved by winning the Cadillac Championship that he's capable of playing some wonderful golf.
David Toms is another player to have struck form of late and, as a former winner of the PGA Championship, has major pedigree. He'll hope to play well.
Those guys will all believe that if things go right for them this week then they could come out the other side as a national champion.
Phil Mickelson always gets a lot of attention and is once again among the favourites, but I think the bookmakers are simply responding to the markets because I wouldn't have him high on my list of potential winners.
He has been runner-up in the US Open on five occasions, but I've never thought his game was entirely suitable for the event. He doesn't keep the ball in play enough and eventually that catches up with you.
He is a swashbuckling player, but over 72 holes he's likely to get caught out. If he turns up at Congressional and hits it well off the tee then he will have an impact, but I wouldn't usually bet on him to win this particular major.
Stacked
We could see a European winner this year, but I wouldn't say the odds are stacked in our favour. Naturally there are more American players in the field, so statistically you'd have to favour a home champion.
But it would be nice if Lee Westwood, runner-up in both The Masters and The Open in 2010, could break his duck.
A major victory is long overdue and I have always felt that if he was only ever to win one major championship then it would be the US Open.
I say that because more than any of the others, this event is about fairways and greens - and that plays into his hands. He's long and straight and should be comfortable in the test of patience that this event offers.
At the US Open you must be able to keep your emotions in check and retain a long view at all times. He closed with a 66 at the St. Jude Classic last week and seems to be striking form at the right time.
In terms of consistency, then the world number one Luke Donald will also be a good bet, but he will have to drive the ball especially well if he is to contend here. In my view he's not as straight a driver as Westwood - and he's not as long either - so he's immediately at a disadvantage off the tee.
But he's had a phenomenal year and it would be wrong to dismiss the chances of the world number one.
In contrast, world number three Martin Kaymer is a tremendous ball-striker and I like his chances. He's already a major champion and a former world number one and he's only in his mid-twenties. He has the class to do well at Congressional.
Cruised
I also fancy Rory McIlroy, who could have cruised The Masters if things had gone slightly differently.
He needs to be pragmatic about his final-day difficulties at Augusta and look at the example of Dustin Johnson, who had a nightmare on the final day of last year's US Open.
He threw away the lead in the final round, but managed to put that behind him and nearly won the USPGA Championship, only to be denied a place in the play-off by an unfortunate penalty for grounding his club in a bunker. He was able to bounce back from a disaster and Rory must take heart and inspiration from that.
Some people would attribute his final round at Augusta to inexperience, but when that opportunity comes around again he will know what to do. He will learn he approached it in the wrong way and I think he'll flourish because of that.
There will be plenty of attention on Rory, but also on defending champion Graeme McDowell, who is a match for anyone on his day. His confidence has not been high, but I don't think he's far away from his best form.
He was leading the PLAYERS Championship with one round to go, which shows his game is not in terrible shape and just one bad round cost him a chance of winning the Wales Open. That fine form of 12 months ago could yet be rediscovered.
What we - and he - can say for certain is that if he finds himself in a position to win then he's proved that he can see it through. Not many of the other contenders can say that.
Finally, I'm still supporting Sergio Garcia and have some money on him to do well this week. He missed the cut after an 11 on hole three at the St Jude Classic, but ball-striking will be a big part of the US Open and he is a master in that field.
I can build a case for so many of the players this week. I'd perhaps rule out some of the young debutants because you rarely win your first US Open, but there are a number of guys turning up believing they can win and that makes it genuinely exciting.
Make sure you join us on Sky Sports for more than 30 hours of live golf. In so many ways it's going to be epic.
ROB'S SKY BET TIPS
Matt Kuchar - I have liked the look of him all season and as one of the most consistent players around, he can have high hopes of winning a major and he's a decent price at 22/1 with Sky Bet.
Sergio Garcia - I pick him every week and I'm giving him a big chance of having a good tournament because his ball-striking is so strong. The Spaniard is 66/1 to win.
Post to your View!
Be the first to post a comment on this story