There's no doubt that the USPGA Championship is just as important as all of the other majors.
For the players, it's all about winning a major, rather than worrying about which one it is. Perhaps if you've won more than once then you set your sights on claiming all four, but in terms of importance then any one will do. This is just as important as the other three.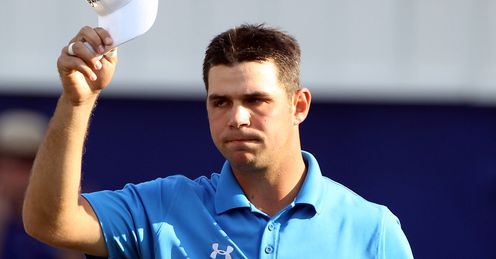 But what type of player will do well at Atlanta Athletic Club this week? In my mind you're looking at somebody like Rory McIlroy, not simply because he's one of the best players in the world, but also because the course suits his style so well.
I think it suits the guys that are long and straight. I expect to see the likes of Dustin Johnson, Nick Watney and Lee Westwood do well because when they are on top of their game it's hard for the rest of the field to keep up with them.
With Woodland it feels like there's lots to spare and if he can get that out then a major is not beyond him.
Rob Lee
Quotes of the week
LIVE ON SKY SPORTS
USPGA Championship
6pm, Thu, Sky Sports HD3
Watch on the move with
Sky Go
How to
remote record
But McIlroy is certainly the favourite. He didn't have the best time with the putter last week, but he hit a lot of good shots and has been playing pretty well for a while.
He seems to be in his element when he gets to the majors now. He struggled on the third day of The Open after a good start, but he will prefer playing in the States again.
He has announced he may return to the PGA Tour next year and I think he prefers it in a clement environment. You don't get the wind over there that you regularly find on European courses and that suits Rory's ball flight. He can use his power to his advantage when his long, high iron shots are unaffected by the conditions.
So I've no doubt he'll be looking forward to the final major of the year and he's got to be one of my tips for victory.
Form
As for Westwood, he stated that his weekend at the Bridgestone Invitational was "tee to green, probably the best I've ever played." Now he just needs to find some form with the putter.
He doesn't putt as well as some of the other players around him and often has to make up for it with incredible ball striking. He has never had the greatest short game - you can't be the best at everything - but there's no reason why those things won't fall into place at a major championship at some point.
He's been close to major success on many occasions. He's finished in the top three six times and has been unlucky not to get over the line. He might have won the 2010 Masters were it not for a miraculous shot at 13 from Phil Mickelson and he also had two putts to tie The Open that year.
The final piece of the jigsaw is yet to land in the right place for him, but he's just seen his stablemate, Darren Clarke win his maiden major at the age of 42 and that will reassure him that he's not in an almighty rush. Of course, you would like to win one as soon as you can, but there's no need to despair. He knows that anyway.
He is more than good enough to win multiple majors and with a fair wind that will happen.
Suited
From an American perspective, I'd say Watney and Dustin Johnson are well suited to this course. I also expect Rickie Fowler to perform well after a strong Sunday at the Bridgestone Invitational.
We must remember that Fowler is still very young. I know people compare him to McIlroy, who won the US Open at the age of 22, but there is still plenty to come from Rickie, who is long enough to do well in Atlanta.
When he figures out how to win, he will be a very good player. Some people look at his brash clothing and see him as a bit of a showpony, but he's much more than that.
The other American player I'm backing this week is Gary Woodland. He only just missed out on a play-off at the Greenbrier Classic a fortnight ago and he is one of those players that looks like he's never going at full tilt. It seems there's always more to come.
Some players achieve things and you think they've done it by flooring the accelerator; there's no slack or anything else to get from the engine. Yet with Woodland it feels like there's lots to spare and if he can get that out then a major is not beyond him.
Again
The Bridgestone champion Adam Scott played some beautiful golf last week, so why couldn't he do it again here?
If you're looking for a photo-fit Atlanta winner then he fits the bill perfectly. He hits it long, he hits it high and he will be full of confidence after his first WGC win.
But sadly a lot of the talk after his victory was about the man on his bag.
I had been amazed by some of Steve Williams' comments even before last week's tournament. Only he and Tiger Woods know why they parted ways, but Williams seemed intent on talking down their time together. He said Tiger needs to earn his respect back and was talking almost like their success was down to him.
Then he couldn't resist it after Scott's win and said too much when it would have been better to say nothing at all. He described it as the best week of his career and told the world what a good frontrunner he was. Maybe in his mind he's hitting half the shots, but it was awful to listen to.
It's a shame because Steve should look back at his years with Tiger with pride, a 13 major haul means he has got nothing to prove to anybody and he has had a terrific start with Scott who will prosper from Williams' aggressive style.
I honestly believe Woods has a chance of winning another major this week. His first round back after injury was tremendous and even though he faded over the weekend, it was great just to see him play four rounds.
At the start of the tournament that was far from certain and the fact he played all four rounds, with some nice shots in there, was a definite positive.
Rob's Sky Bet tips
I picked both Rory McIlroy and Gary Woodland (80/1 with Sky Bet) last week and I've seen nothing to make me change my mind. I think the selection of McIlroy speaks for itself, but ever since I watched Woodland hit some shots in Scotland I've been very impressed with him. He's been in contention, he's calm between the ears and he's got all you need to win a big one. He's 15/1 to finish in the top five.
Comments (1)
Paul Reeves says...
No mention of world number one and most consistent player this year Luke Donald?
Posted 08:37 11th August 2011