All of the big guns are coming out to play and it feels like the season will kickstart itself into life this week.
Outside the majors and the WGC events, you'd struggle to find a better field than the one at Abu Dhabi.
The world's top four players - Luke Donald, Lee Westwood, Rory McIlroy and Martin Kaymer - are there plus a host of big names like recent major winners Charl Schwartzel, Darren Clarke, Graeme McDowell and top guns Sergio Garcia and Jason Day.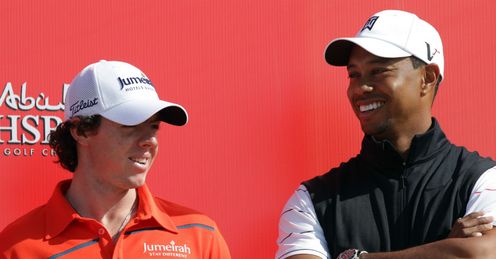 But, as usual, all eyes will be on the world number 25.
Tiger Woods starts his 2012 campaign in Abu Dhabi this week and I believe all of his detractors will have to eat their words before long. I really think he's going to have a great season.
It's good to see him starting out in January and having a good run up to The Masters. He's fit, he's taking part in top-class events and we'll see how much of a tiger he truly is by the end of this season. We will be able to judge him properly over the next 12 months.
A few years ago he was battling with the likes of Phil Mickelson, Jim Furyk, Ernie Els and Retief Goosen who are all in their forties. He's now bridging the gap between those guys and the new breed of players in their twenties; the likes of McIlroy, Kaymer and Day.
Rob Lee
Quotes of the week
LIVE ON SKY SPORTS
Abu Dhabi Championship
6am, Thu, Sky Sports HD3
Farmers Insurance Open
8pm, Thu, Sky Sports HD3
Watch on the move with
Sky Go
How to
remote record
We've seen signs of form from him in the last two years, but it's been very patchy. He played well at The Masters in 2010 and had a run in 2011, but a lack of fitness and a lack of practice has prevented him from doing it on a consistent basis.
He won his last tournament, the Chevron World Challenge, and the last two holes of that event could be the biggest of his comeback. He produced two birdies, just like the Tiger of old, to pip Zach Johnson to the title. That may have been a small field, but to finish it off like that will have meant an awful lot to him.
I believe he will get back to world number one. He's getting older, but at the age of 36 he's hardly ancient and he finds himself in an interesting position between generations.
A few years ago he was battling with the likes of Phil Mickelson, Jim Furyk, Ernie Els and Retief Goosen who are all in their forties. He's now bridging the gap between those guys and the new breed of players in their twenties; the likes of McIlroy, Kaymer and Day.
He's going to be playing against McIlroy and co for a few good years yet, which makes me feel very lucky as a golf-watcher. When you throw names like Donald and Westwood into the mix as well, as they search for their first major, there are great stories everywhere.
Stand-outs
Abu Dhabi has emerged as the biggest event of the Desert Swing now. It used to be Dubai, but I think this one has taken over.
Amazingly, the computer has put together Woods, Donald and McIlroy - and also Westwood, Kaymer and Garcia - and those two three-balls are obviously the stand-outs.
And everywhere you look there are players arriving on the back of good performances.
Woods won last time out, Westwood ended the season well, Luke Donald ended the season as World No 1 and PGA Tour No 1 and all the top players look to be in good form early on.
I expect Kaymer to do well because he's a fantastic golfer and he loves this golf course. For some reason it's a home from home for him. He shot 24-under last year - and that will never, ever, ever be done again. Rory McIlroy was eight shots behind on 16-under - and at the start of the week people were saying that 15-under should win. When he's good he is very good.
Branden Grace has also qualified to play after two amazing wins, but it will be difficult for him outside his native South Africa. The rest of his season will be a steep learning curve.
Whatever happens, it's going to be an amazing week.
Seething
I'm sure PGA Tour commissioner Tim Finchem will be privately seething that Woods will start his season at Abu Dhabi rather than at Torrey Pines.
That's one of Woods' favourite courses and he's won there loads of times, including the US Open in 2008. His absence from this week's Farmers Insurance Open will undoubtedly lose them TV ratings, advertising and more.
Whatever Finchem says, Tiger still puts bums on seats, but he has been lured by the riches on offer in the desert. It's not unusual for him to go over there at this time of year - he's often played in Dubai - and evidently money talks.
But there's still an exciting field at Torrey Pines, including Phil Mickelson, who is looking for some early-season form. He loves the golf course, but I'm not sure he will be able to win here after a difficult start last week.
You've also got previous winners such as Nick Watney, Ben Crane and defending champion Bubba Watson, while Rickie Fowler will also be showing off his new set of clubs so there's plenty of interest.
Traditionally the big hitters do well on that long course. It has favoured the likes of Mickelson, Woods,Watney and Watson over the years. If you can smash it for miles and then chip and putt then it's the ideal combination around there.
In that context, I like the chances of Nick Watney, who has won here before and returns with all those good vibes.
Rob's Sky Bet Tips
Abu Dhabi Championship: I could write six names on a dice and then roll it to see which one comes up, but I think it will be fun to back Tiger Woods at odds of 9/1.
Farmers Insurance Open: As for Torrey Pines, I'm going for another 'W' to get the 'W'. I'll say Nick Watney will repeat his 2009 win here at 15/1 with Sky Bet.
Comments (7)
Christine Patrick says...
Robert Rock played brilliantly to win at Abu Dhabi but I felt that the commentators seemed to be willing Tiger Woods to play even better and so win. Let's please have more equal support for our home players. We know Woods is a good golfer,but there are many others who could be watched in all the tournaments, often scoring better, too.
Posted 19:03 29th January 2012
Patrick Lawless says...
Rory McIlroy deserves great credit for his composure after being penalized, and his ability to stay in there. Unfortunately that ridiculous penalty could cost him much more by season end. As for Tiger? He's still petulant and does boring interviews, but he keeps us interested.
Posted 18:13 29th January 2012
Rob Percival says...
I'm confused. Rory got a two shot penalty for clearing sand off his line, off the green. Why wasn't the sand a 'loose impediment', ie the same as clearing away fallen leaves. Can anyone explain this ruling please.
Posted 11:48 29th January 2012
Adam Demaine says...
@ Doug Waite - And why were people in awe of the way he played the game....because of the WAY he played the game. As the swing changes bed in and his personal life has settled down he will play the game we all know he can.....as the first 3 days in Abu Dhabi have begun to show. There is so much debate over the coverage Woods receives but what do you expect? He's in his prime golfing years (at least on paper) and he's won the 2nd most majors and 3rd most PGA Tour events ever....at least for now. Those records WILL be broken.
Posted 22:25 28th January 2012
John Hobson says...
It is good to see Tiger back, or it was until he slightly miss hit a 3 wood from a tee, he then smashed his club in to the ground not once but twice, not one word of censure was uttered by the commentators. It seems ridiculous that Rory Mcilroy is penalised 2 shots for moving sand from the line of a put on the fringe of a green but Woods is not penalised for deliberately damaging the course, I can imagine what would happen to an ammature if they attacked the tee on a championship course. Perhaps a change in the rules to encompass petulence?
Posted 12:16 27th January 2012
Doug Waite says...
No one will ever question what Tiger has bought to the game over the past 16 years, just as Niclaus, Palmer, Hogan & all the other greats have done in their time. However, there surely must come a time when the focus of the worlds media is turned towards a new generation. While I'm sure Tiger will win another tournament where he has hand picked the field, I doubt very much he will ever win another Major. Reason being, is that for all the time he was dominating the game, everyone else was in awe of the way he played the game. However, now that fear is gone and every pro on tour believes they can stare down the Tiger and win, just as Mcdowell did last year and YE Yang before that. He simply doesn't have the fear factor any more because we've all seen him hit the ball into the trees and where he used to be able to hit it to two feet in the past, he now struggles to get out of the hazard just like any 20 handicap golfer at your local municiple, never mind hit the green. Just as Seve's powers of recovery wained, Tiger's have been in decline for some time. So unless he can find a coach who can help him top the driving accuracy stats, then I'm afraid he can forget about breaking Jack's record for major wins. If it was any other pro on tour who was having this much difficulty in making the cut every week, we would never see them between first tee and 18th green. Just look at Darren Clarke. Oh that's right.. you can't. Don't get me wrong I want to see Tiger play well again, but what I don't need to see is him hacking out of the trees or waste deep in weeds while ten other guys are fighting for the title. If he starts to play well, great focus on him, if not then please, please, please lets all focus our attention on those who are.
Posted 17:40 26th January 2012
Graham Donohoe says...
Some people may say Tiger is only playing here because of appearance money. But we know he playing here because of the strength of the field and the amount of ranking points on offer. If Tiger wins the tournament he will know he is back to his best on a tough course and a top quality field.
Posted 18:40 24th January 2012