Each week Brian Carney takes a look at six moments in Super League that have made the headlines - and not always for the right reasons!
Players, coaches and decisions all come under Brian's scrutiny as he picks his 'Set of Six'.
Find out who and what caught Brian's eye this week - and then use the feedback form below to have your say.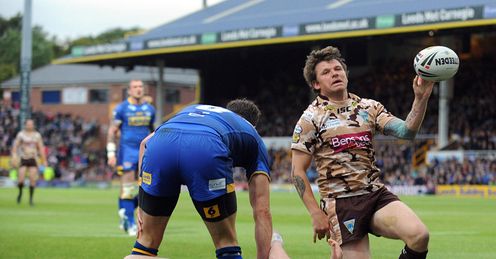 ONE-ON-ONE TACKLES

We talk long and hard about structure in defence and coaches and backroom staff spend a lot of time talking about the fundamentals of tackling. Good technique is obviously needed to make sure you get your man in those one-on-one situations but at the end of the day it is your own determination not to let him pass that counts. Over the weekend we saw how not to do it - there were some shocking tackles. There will be no hiding from missed tackles at the video-analysis sessions and they can be very lonely when your missed tackles are up on the screen, but not as lonely as when you miss your one-on-one tackle and look around to see your opponent 30 yards down the pitch heading for a try - you have got to make your tackles!
They can be very lonely when your missed tackles are up on the screen, but not as lonely as when you miss your one-on-one tackle and look around to see your opponent 30 yards down the pitch heading for a try.
Brian Carney
Quotes of the week
LEE BRIERS

Of course good running lines make point number one much harder and when you have a player like Lee Briers putting you into space, well that can cause havoc with any defence. The touches he showed against the Crusaders were unbelievable and there is no better natural passer of the ball in the game than Lee Briers. If you don't believe me then just ask Andrew Johns. He watched Briers in action in pre-season training and he was that impressed that he just sat back and applauded.
THINKING ON YOUR FEET

Well done to Salford who were fantastic in attack against Wakefield. The Reds worked out that the Wildcats had a weakness down the right edge and boy did they expose it. They showed their ability to assess a situation and exploit it to their advantage. They have got some smart players like Daniel Holdsworth and Matty Smith and I think both sides would have learnt a great lesson about playing what is in front of you.
CATALANS DRAGONS

It was a brave decision for the Dragons to move their game to Montpellier but it paid off as they entertained a healthy crowd. More importantly they got a well-deserved win against Wigan. They need all the help they can get though and I think people forget that they are still in their infancy. They spend around €350,000 on travelling a year and get no help from the RFL. That is money that could be spent on developing their youth and really establishing the game in France. If we want to expand our game then they need assistance.
HILDA

What a farcical event at the Shay Stadium that did the image of rugby league no good! Huddersfield were playing Castleford but a mix-up meant that both sides ran out in white strips and neither had brought alternative kit. Halifax kit lady Hilda Hardy was rushed in to save the day as she lent Castleford some Halifax shirts but this should never have happened. I really think it has brought our game into disrepute and the attention to detail and professionalism was certainly missing.
THE EXILES

They have finally arrived! We have asked for a fixture like this for a long long time and I really hope it takes off. It really needs a healthy five figure attendance though and I urge fans to support this - it could become a unique event with some of the best players in the world wanting to play. How about you pick your best Super League XVII and see how many of your team have made the England or the Exiles team.
Comments (8)
Dave Marsh says...
Brian, totally agree with your comments about the Cass v Hud game. What happened to the team that plays at home wearing their home strip. It's a simple rule which works. On another note when are we going to start cracking down on forward passes. In my mind they do far more damage to the game. I have consistently seen blatent forward passes resulting in try's at critical moments in games throughout the season. Linesmen (referees assistants ) or non assistants as it seems just don't seem to be tuned into looking for them. Let's get rid of the lateral pass with forward momentum rubbish and cut out the uncertainty. It's rugby league not American football! And long may it stay that way, THE BEST GAME IN THE WORLD.
Posted 07:09 12th June 2011
Alan Smith says...
Exiles game a good idea in principle but would be better played on a weekend clear of all other SL matches and on a Saturday aftrenoon giving ALL fans a chance to be there.The players have it tough enough playing one game a week as it is or is this just another evening the competition up by giving the Wakey and Crusaders players a rest ? Statto
Posted 13:32 10th June 2011
Simon Fowles says...
I agree with you Brian about the Exiles game. I'm massively excite about it and to be honest I'm not entirely sure England will emerge victorious. 'Bluey' has a fine roster of Exile players at his disposal which, despite not having much team time, I expect to provide a stern test for us. Still... come on England!
Posted 12:57 10th June 2011
Chris Willsdon says...
Its not a new concept by any means but it is a good one. If you don't get it then stay in Fev. Hopefully an end of year 4 nations with England, Exiles, France and Wales will be played in 2012. That would be a pretty good way of showing those daft Aussies what they are missing and retain genuine interest down under. We could even borrow Wayne Bennett to coach the Exiles, who would suddenly be centre stage as the only credible antipodean opposition available, and let the parochial NRL watch and wonder why with all its power and money it cannot develop its business model outside of Australia. We could even be nice and discount the TV rights! Someone like Bennett would boost the profile down under 10 fold. He is after all a proponent of the international game. The Exiles are not limited to Super League either! Small print. Invitational players from, well, anywhere! They could end up making the Barbarians look like a high school team, whilst showcasing the best in the world. Easy to capture players on short term contracts as no one anywhere will have a contract specifically excluding a one off non-test match or series.
Posted 08:26 10th June 2011
Mable Syrup says...
I never knew how much Catalan paid for travel with no help from the RFL. Is the partnership the RFL now have with Emirates going to subsidise all clubs traveling costs to the south of France and all of Catalans trips? What is the situation for Toulous and all sides playing them?
Posted 15:49 9th June 2011
Nick Spence says...
RE: Jack Rignall, Warrington have eight players on show. playing Salford who also have no players playing. stop moaning.
Posted 12:56 8th June 2011
Iain Carley says...
Brian is right about the Exiles game, we need to have something similar to Origin in this country otherwise we will never be able to match the Aussies and New Zealanders at international level. The NRL's top stars regularly "back up" after midweek Origin games so I can't see why that should be a problem here.Top level high intensity games are what our players desperately need and I for one hope this game is a success.
Posted 12:08 8th June 2011
Jack Rignall says...
Brian i couldn't agree less with your comments about the exiles match it is a game that has shown how backwards the RFL are. to have this game that is no doubt going to be very competitive and risk injuries to players and then expect them to play super league fixtures a mere 72 hours afterwards is farcical. Take Wigan with 7 top in form players in the game that is more than half the starting 13, to then go and face Castleford two days after who as far as i know have no players in the game is absolutely ludicrous.
Posted 20:24 7th June 2011