Each week Brian Carney takes a look at six moments in Super League that have made the headlines - and not always for the right reasons!
Players, coaches and decisions all come under Brian's scrutiny as he picks his 'Set of Six'.
Find out who and what caught Brian's eye this week - and then use the feedback form below to have your say...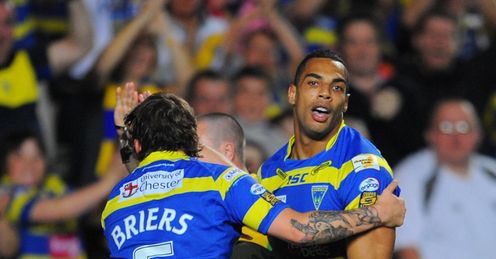 FINAL FOUR

I don't want to do Leeds a disservice but I am opposed to them being called the form team heading into the last four. They have won games but that is different to being in form and I believe this will be an unsuccessful season for the Rhinos. I believe that they have limped into the final four and I don't see them getting past this round. I think they have got some quality players but I also think they need some quality additions to their squad for next year. I think Wigan, St Helens and Warrington are very strong and I think that those three are capable of winning the Grand Final. I would have to say that Warrington are favourites but St Helens are the dark horse for me. It is unusual to call the Saints "dark horses" but they have just been so efficient this season, going about their business with little fuss but getting the results. Who knows, they may also get all their top players back just at the right time. I do think Warrington will have too much for Leeds but the one I am finding difficult to call will be Wigan and St Helens.
PLAY OFF ATTENDANCES

These have been very poor and I have heard a lot of reasons for this. I have heard it's the economy and that season tickets are not applicable during the play-off series. Whatever the reasons, something has to be done about it. Other sports talk about auditing teams performances when they hit the play-offs to see whether they have done everything they can to promote games etc. But just under seven thousand to watch potentially Wigan's last game of the season is incredibly poor. You may well ask what does it matter, but it matters on all fronts. If it is a barometer of the popularity of the game then we are in trouble. It looks bad on TV when you advertise these do-or-die games and there are less than seven thousand fans there. This is not just aimed at Wigan - the play-off attendances were all very poor and the RFL, instead of worrying about Club Call and things like that, should be doing some solid promotion to boost attendances. The season is supposed to be building to a Grand Final crescendo but that does not seem to be the case. It needs to be investigated.
MAN OF STEEL CONTENDERS

If you decide to go to the game or watch it on Sky you will get to see two of the three Man of Steel candidates in action on Saturday night. Sam Tomkins and James Roby will be doing their very best for Wigan and St Helens respectively with the other contender, Rangi Chase no doubt watching from home. I think there would be little argument if any of these three win it but I think people are disappointed that Michael Monaghan is not on the list. I do appreciate that they are chosen by the players but Monaghan is surely one of the top three players in Super League. Out of those three I would have to go a bit left field and throw out James Roby as my 2011 Man of Steel winner.
PLAY-OFF STRUCTURE

There is a need to be constantly assessing the structure, strength of and the quality of your competition. I have been particularly critical of the quality of sides that have been crawling in to the play-offs. We are ending up with very uncompetitive sides in the semi-finals. When you decide not to go first past the post you leave yourself open and you need extra vigilance to make sure it works. We now offer play-off spaces to more than 50% of the sides in the league - we have teams with losing seasons getting in. By losing seasons I mean they have lost more games than they have won. I think we need a revamp - we wouldn't if we had a more competitive league and we would have a more competitive league if more teams spent the salary cap. None of these can work in isolation - if you want to stick to the top eight then you have to get teams to spend the salary cap.
NRL GRAND FINAL

The Warriors have been immense to get there. In the year when they have the rugby union world cup in New Zealand; the Warriors have managed to divert a lot of attention onto themselves. They have done it the hard way beating West Tigers and then Melbourne Storm in the semi-finals. Shaun Johnson is a player that people need to keep an eye out for on Sunday morning on Sky Sports, he is partnering James Maloney in the halves for New Zealand Warriors. They will be up against Manly pairing of Daly Cherry-Evans and Kieran Foran - Foran is a real talent too. It should be a cracking game and not one to be missed.
FOUR NATIONS

We are building towards that time of year and it is looking as though once again we will be up against two very talented Australia and New Zealand teams. Some of the young talent on display in the NRL this year is frightening. It should make for a very interesting tournament, but England will want all of their players available to make any sort of inroads.
Comments (7)
Rhinos Chris says...
Brian Carney, what were you saying; Warrington would have too much for Leeds??? Think it was the other way round..!!! Lets be honest about it, Challenge Cup Final and Grand Final for a team who supposedly are not as good as Saints, Wigan and Warrington. We have to thank you along with rest of the people who said Leeds would not be successful this year because everytime you write us off, it motivates us more!!!! Saturday 8th October= Watch this space.....
Posted 12:29 3rd October 2011
Leigh Richardson says...
credit where its due leeds were well worth that.
Posted 22:37 30th September 2011
Mark James says...
You should have to play well to make the playoffs, Top 6 teams with top 2 in the league going straight to the semi-finals The games were the teams get a second chance seem to lack intensity.
Posted 10:59 30th September 2011
Leigh Richardson says...
leeds might be playing better than they were but i cant see anything other than a 20 points loss, toss a coin for wigan saints then a warrington win in the final 25 12 who ever they face ;o
Posted 17:21 29th September 2011
Mike Holden says...
For me, the poorer attendance that weekend was the West Yorkshire derby that attracted less than 4000 fans from each team. Atleast the DW attendance was all from Wigan!
Posted 15:16 29th September 2011
Marie Spiers says...
In reference to your comments on attendance from fans. I think you'll find its purely finances , tickets plus travel , so many games in such a short period of time , it all adds up. Don't forget this is a family spectator sport , purchasing several tickets per game isn't cheap . If you look at the attendance at the Carnegie you'll see how loyal fans are, and boy was that an expensive day out per family. Lower the ticket prices and you'll sell many more, its not rocket science , you gain nothing from an empty seat . The country is also in a recession , many families can't afford to attend all games at current prices. The clubs will make the difference back on food and drinks it sells, i know I can't take my kids without having to buy them drinks and snacks . You can promote the game to the hilt , but if fans can't afford the tickets then its a waste of time.
Posted 13:31 29th September 2011
Lorraine Janiczek says...
Brian Carney write us off at your peril. We do not fear Warrington or anyone else for that matter. We have big game players who have the temperament for the big games and we are peaking just at the right time. Oh and one other thing we have been written off by everyone apart from everyone connected with our fantastic club and if we can pull this one off this will be the best ever.
Posted 13:21 28th September 2011