England's first win in Dublin since 2003 was just the boost the squad needed before heading Down Under.
It was made more of a priority by the sterile nature of their loss against Wales two weeks prior. But it was the success of a number of selections and new combinations that will have delighted Martin Johnson the most.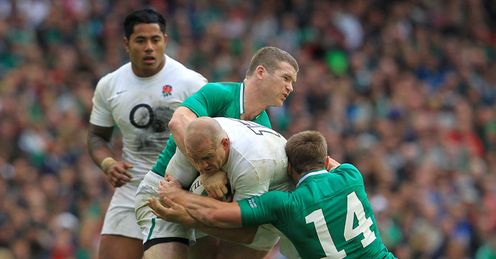 As discussed in last week's column, the selection of certain individuals in key positions has the potential to bring the best out of those around them by magnifying their strengths and minimising their weaknesses.
This put the focus squarely on Johnson's choices at centre, the most scrutinised and heavily criticised combo over recent months, but they ended up being two of the most successful picks.
Both Tindall and Tuilagi were aware of the areas they needed to take the lead in. It's amazing how much pressure this can relieve and how much easier the game becomes.
Dean Ryan
Quotes of the week
Sky Bet odds
For the latest outright, Pool winner, stage of elimination and top try scorer markets visit
Sky Bet
. New customers can claim a completely free £10 bet.
England to win Pool B - 4/11 with Sky Bet
Why was this? Mike Tindall - who equalled Will Carling's record of 72 caps at centre - has been under heavy criticism, but had one of his best games in an England shirt for some time.
What was it in Manu Tuilagi's game that allowed this? It's best illustrated by watching the two operate in defence.
Confidence
Tuilagi, raw and new to the international scene, is prone to jumping out of the line, keen to make an impression and that trademark Samoan hit! It's this weakness that has made people reluctant to expose him too early to the spotlight of international rugby.
This time, although wearing 13, he was asked to defend at 12, where he was marshalled by the more experienced Tindall, a top class defender. It gave Tuilagi the confidence to stay on the line and take care of anything coming down his channel.
Tindall had the more difficult decision-making job; leading the line and knowing when to push hard to cut off any Irish attack, or sit that little bit deeper and let the Irish onto his outside and drift across to the touchline.
Chris Ashton to be top try scorer - 14/1 with Sky Bet
In attack, the reverse occurred. The swashbuckling Tuilagi took the lead and was a constant threat to the opposition defence, allowing Tindall the role of simply running good lines and making easy passes. We saw this in the latter stages when that extra bit of time and clarity of thought allowed him to stab through a grubber for Delon Armitage's try.
Both players were aware of the area of the game that they needed to take the lead in - and it's amazing how much pressure this can relieve and how much easier the game becomes.
While watching Tindall operate with Hape in recent weeks, it highlighted the fact that both have similar strengths and weaknesses. Both strong and organised in defence but, if being honest, both lacking flashes of inspiration when in attack.
The danger of having two such similar players in tandem is that the weakest part of their game becomes the area that is forced the most.
They will try harder to find that little bit extra, often forcing themselves out of their comfort zones and leading to errors. Or the alternative is to play mistake-free, percentage rugby that lacks the creativity or penetration required from an England midfield.
Appetite
We have seen the same effect in the rise of Louis Deacon, who was criticised during his combination with Steve Borthwick for being pedestrian and seeking comfort in contact.
His new partnership with Courtney Lawes allows his talent of running and organising the lineout, as well as his appetite for work around the breakdown, while Lawes is marauding around the field - something we need to see more of.
England to go out of the World Cup at the quarter-final stage - 6/5 with Sky Bet
So now England head to the World Cup, with more optimism and a better understanding of starting combinations.
And don't be surprised if the introduction of other new faces over the coming weeks leads to a lift in performance of those around them.