No England fan can have spent a comfortable morning over breakfast watching England's start to their Rugby World Cup campaign.
Only a late try from substitute Ben Youngs prevented us from a Sunday with calculators working out the remaining possibilities for qualification, made all the complicated as we would have been forced to try and work out the possible scenarios and impact of bonus points.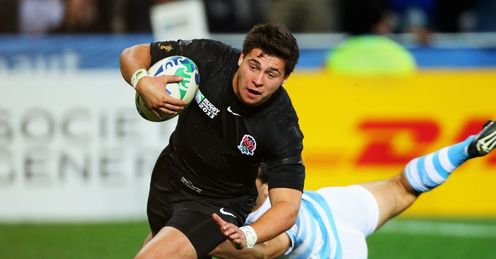 Where most people are at a loss to explain is the na´ve choice of tactics, which were in play by the England team.
Now every team has a Plan A. It's the area of the game along the continuum of ways to play the game which they feel exaggerates their points of strength the most.
This should be moulded around your perceived starting 20 players. (There is no point aspiring to a game plan that your core selection cannot achieve).
There were many opportunities where ball could have been taken straight off the top of line-outs to offer Tuilagi a one on one chance against a injury disrupted back-line.
Dean Ryan
Quotes of the week
SKY BET ODDS
Dean fancies Max Evans to score anytime v Georgia - 8/13.
Bet now.
It should also be one that everyone believes, if delivered to the correct level, is capable of achieving World Cup glory.
Think Australia and you think of a frenetic running game orchestrated by Cooper and Genia.
Now it's no surprise that in England's case this is built around a solid set-piece platform at scrum and line-out time backed up by a solid defensive structure. Top this up with a sound kicking game and the capability to hit sides on the counter with a dangerous back three and your not far off Plan A.
If anything England's warm up games have confirmed this to us and in fact it would be dangerous to make any drastic shift this close to the tournament.
There is certainly nothing wrong in the theory around England's Plan A albeit that key elements of it went missing on Saturday. (Elements that nobody would have seen coming!) Where their preparation was flawed was in believing that this was going to be enough to overpower an Argentinian side that wrote the blueprint for Plan A!
There were no new tricks in Argentina's locker. They have long been established as masters of the scrum and driving line-out for many years with wily old foxes like Roncero and Ledesma adept at slowing the game down to a pace that suits their powerful forward pack and a backline capable of remarkable feats of individual brilliance. Did nobody watch their 2007 campaign?
Where there is surprise is that England seemed to think that this was their route to success and there seemed no alternative. Now in a tournament that is knock out rugby after week four and not far off disastrous if we lose a game in the pool the capability to have and impose a Plan B is crucial to sides advancing.
Plan B should be a move to a point further along the continuum. It should offer a change in attacking emphasis and ask a different question of opposition sides than A.
Australia know for all their flair and attacking ability that they will need at some stage to go head to head in the forward exchanges if they are to be successful in this competition.
Of course the most successful sides can often flip between one another during a single game to ensure success. (Only South Africa have been successful in employing just a Plan A that nobody could stop) We saw an example recently in the Tri-Nations decider of New Zealand having to adapt their game in the second half to a forward based power game which came so close to salvaging a poor first half performance.
But this is where the questions of England's approach lie. Why is that we thought that our structured set-piece game would be enough and where is our Plan B running game?
There were key points in the game when it was apparent that things needed to change, where was the chance for Toby Flood to lift the tempo and renew his partnership with Ben Youngs? There were many opportunities where ball could have been taken straight off the top of line-outs to offer Tuilagi a one on one chance against a injury disrupted back-line.
Instead we were extremely fortunate that a tipping penalty on Armitage (trying to run a long kick back) allowed us the field position to set up Ben Youngs game saving try.
Now England have many issues to ponder over the next two games which with all due respect to Georgia and Romania should not pose too great a difficulty.
Most importantly what exactly is our Plan A? And who is the best selection at back row and half-back to deliver it, and at some point we have to have seen the flexibility to move to a Plan B whatever it may be!
Dean's picks
Scotland's narrow escape against Romania should be the wake -up call they need ahead of their clash with Georgia on Wednesday. The catylst for most of Scotland's attacking threat so far has come from Max Evans expect him to get his name on the score sheet first on Wednesday to open his World Cup account.