Four weeks of the 2011 NFL season are in the record books and it is clear that the Detroit Lions are the feel-good story of the first month.
For the second week in a row, the Lions overcame a huge deficit to win in thrilling fashion, fighting back from 27-3 down to beat the Dallas Cowboys in Texas. They may not be able to keep riding their luck like this the rest of the way, but there is no doubt Jim Schwartz's men have character and guts.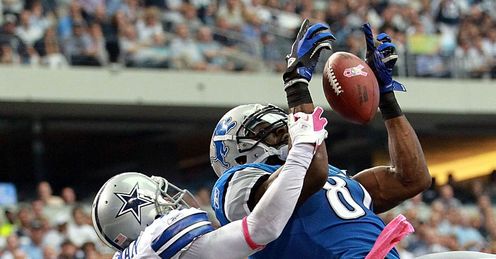 The Green Bay Packers are the class of the NFL and might be too much to overcome in the NFC North Division, but it is now officially time to take the Lions seriously. They have won eight games in a row, after all.
Here is what else I learned from watching Week Four unfold in the United States...
Ravens bite the hand that used to feed them
With Rex Ryan making so much noise as head coach of the New York Jets in recent years, it is easy to forget he made his name as an assistant coach and defensive coordinator with the Baltimore Ravens from 1999-2008. Well, the unit that Rex helped to build came back and bit him badly on Sunday night.
The Ravens scored on three defensive touchdowns during their 34-17 win over the Jets, finding the end zone on Jameel McClain's six-yard fumble return, Jarret Johnson's 26-yard fumble return and Lardarius Webb's 73-yard interception runback. That kind of production is not only impressive, it is extremely rare.
While the Jets have dropped to 2-2 on the year, the Ravens are sitting relatively pretty at 3-1. Baltimore have enough offensive weapons in quarterback Joe Flacco, running back Ray Rice and wide receivers Anquan Boldin and Torrey Smith. Defensively, they are the real deal and have to be considered in the Super Bowl mix after the first month of action in the NFL.
Oh no, here comes Romo!
I don't care how many exciting plays he makes and how often he produces flashes of excellence and bravery, Tony Romo is always going to be criticised as quarterback of the Dallas Cowboys if he continues to have meltdowns when big games are on the line.
Romo was in outstanding form in the first half of Dallas' Week 4 clash with the Detroit Lions on Sunday, finding his rhythm and looking full of confidence. He threw three touchdown passes and had the Cowboys firmly in control of the contest with a 27-3 lead.
Then Romo threw back-to-back interception returns for touchdowns and tossed a third pick to Stephen Tullock which helped the Lions record a memorable 34-30 victory to stay undefeated. Romo has so many good moments for the Cowboys but he also cracks under pressure (he did the same in Week one against the New York Jets). Quarterbacks are often unfairly criticised but I think, on this occasion, Romo's critics are justified in attacking him.
49ers living the dream
The surprising San Francisco 49ers are living the NFL dream after four weeks of play, improving to 3-1 under first-year head coach Jim Harbaugh with a 24-23 road win over the Philadelphia Eagles on Sunday.
There is rarely anything pretty about these 49ers, but they play tough and aggressive defence and are finding just enough offense from the likes of quarterback Alex Smith, running back Frank Gore and tight end Vernon Davis. More importantly, they are playing with less fear - under previous head coach Mike Singletary it seemed to me they were weighed down by the worry of making a mistake, knowing they would be publicly chewed out on the sidelines by their fiery head coach. Harbaugh wants to win, but his players seem far more relaxed in trying to do so.
As for the Eagles, head coach Andy Reid must want to kick backup quarterback Vince Young for labelling Philadelphia as 'The Dream Team.' Sure, it was only a throwaway line, but it showed expectations have been raised to a Super Bowl level in Philly. Now, the Eagles are 1-3 and cannot win at home even when Michael Vick throws for 416 yards and 2 touchdowns. I don't know about the Liberty Bell, I think these Eagles need to ring the alarm bell, wake up and salvage a season heading south.
Bears grind it out
Chicago Bears head coach Lovie Smith famously once said: "we get off the bus running the football." Well, that certainly was not the case in 2010 or through the first three weeks of the 2011 campaign. The Bears were a lopsided, pass-first team who couldn't protect their quarterback.
That's hardly a recipe for success in the NFL.
On Sunday night, the Bears probably tipped the scales too much in the other direction but their much-improved rushing attack (224 yards on 31 attempts) was a key factor in their 34-29 win over the exciting Cam Newton-led Carolina Panthers.
I think the Bears need to find that offensive balance (just 17 pass attempts on Sunday) but it was pleasing to see that offensive coordinator Mike Martz could commit to the run. Matt Forte carried 25 times for 205 yards and a touchdown. I know it was against a Carolina defence missing vital playmakers at linebacker, but that performance showed Forte is the man around which this attack must be built, particularly as the Bears can expect to play some bad weather games between now and the season's end.
Packers have that Super look
The Green Bay Packers have opened the defence of their Super Bowl crown with four straight wins and look very good money to return to the title game when it takes place in Indianapolis on Sunday February 5.
Now, there is a lot of football to be played between now and that Super Bowl in Indiana but the Packers have to feel confident of a repeat, providing they can avoid catastrophic injuries.
Aaron Rodgers is the gold standard when it comes to NFL quarterbacks and he is in the form of his life. He shredded the Denver Broncos en route to an easy 49-23 win at Lambeau Field, throwing for 408 yards and four touchdowns and adding another couple of scores of his own on the ground. With quarterback being the vital position in today's NFL, providing Rodgers stays upright, the Packers will remain my pick to win it all.
Big man with football! (again)
I've said it before and I'll happily say it again - there is not a funnier and more impressive sight in the NFL than a big man rumbling downfield with the ball in his hands. Last week, the 350-pound Haloti Ngata made it all the way to the end zone for a Baltimore Ravens touchdown and Sunday night saw the return of New England's shutdown cornerback, Vince Wilfork.
Okay, I admit Wilfork is actually a 350-pound nose tackle, but he does now have two interceptions on the season and has been a factor when returning those picks. Poor old Oakland running back Darren McFadden was the unfortunate player charged with bringing Wilfork down on Sunday. McFadden showed he is as smart as he is explosive, deciding to go low, grab a bit of leg and hang on for dear life.
As for the Patriots, they continue to give up yards at an alarming rate but their own offensive juggernaut shows no signs of slowing down. They are a team with flaws, for sure, but they are also 3-1 and there are many clubs around the league who would take that record after the first month of play.