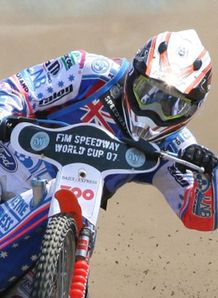 Related links
Teams
Also see
Belle Vue Aces have announced the permanent signing of Jason Crump from Poole.
Crump originally left Belle Vue in 2007 to sign for The Pirates but returned to Kirkmanshulme Lane on loan this winter and now the Manchester club have made the deal permanent.
The 32-year-old former world champion has also agreed to a deal for 2009.
"We are absolutely delighted to have secured the services of a world star, especially as Jason is a full Belle Vue man once again," Aces supremo David Gordon told the club's website.
"He is one of five riders to have won the world title for Belle Vue and we feel this is where he belongs. We are sure our fans will be delighted as we are.
"I know he has great faith in the plans we have for the future development of the Aces and he wants to work with us to make them succeed.
"We are very ambitious for this club and Jason is very much a rider who is driven by ambition. He is never afraid to speak his mind but we appreciate that because we pride ourselves on being a management who will listen.
"His return to the club on a permanent basis gives us a focal point around which to build and we are grateful to ATP for their support in doing this deal. I know that Jason's image as a top international sportsman is very much in keeping with what they want."
Delight
Crump added: "I'm delighted to be settled at Belle Vue until the end of next season.
"It's where I want to be and it gives me a level of stability which is difficult to achieve in speedway.
"This is a big commitment on Belle Vue's part and I'm glad they wanted to do it. I suggested a few weeks ago that I wanted to do this and they went out and got it done."
Meanwhile, Belle Vue have also announced the signing of Danish youngster Jonas Raun.
The Aces axed Pole Michal Rajkowski last week and have now snapped up Raun - who was without a British club after quitting the sport temporarily.
Raun, who spent last season in the Premier League with Newcastle Diamonds, turned down numerous clubs at the start of the season but he has now accepted The Aces' offer.
"We've had talks with him and now he's very keen to come over to resume his career in this country," said team boss Chris Morton.
"He had a handy average of 5.50 over 32 matches at Newcastle. It was a good figure for a first year at Premier League level and it is a figure which means we can fit him into our team.
"Jonas is considered a real talent back in Denmark and he is very keen to ride for us."
Raun is delighted to be back in England and said: "This is a very big chance for me and I mean to take it. I was very happy to accept when Belle Vue phoned me last week.
"I was having a good season at Newcastle last year until I crashed in September. I was nervous when I went to practise but Belle Vue have given me a bike to use that suits me.
"I was very tired afterwards but it is very exciting for me to come to a club like this."
Sky Bet Odds:
Click Here for Your Free Bet